The '60s and '70s nights of An Under Cover Weekend are in the books, and -- well, wow. Like last year, bands went all-out for their tribute sets. Like the Hibernauts, who slayed as the Four Tops on Friday night, thanks to matching red jackets, back-up singers/musicians and a whole lotta Motown heart. Or the Feed, which tackled Jimi Hendrix by sporting clashing outfits (drummer Kevin Bowers' plaid pants were particularly loud, although a friend fondly noted that singer Dave Grelle looked like Pauly Shore ca. Son-In-Law in his get-up) and having saxophonist Ben Reece mic his saxophone through effects pedals so -- voila! -- he could Hendrix's iconic version of the national anthem.
Last night found LOGOS slaying Rush's prog-rock compositions. But the hands-down highlight was the Dock Ellis Band, which tackled Alice Cooper. With lots of props and tomfoolery. Sorry for the less-than-stellar photos (although the red hue is schlock-rock appropriate, no?), but they capture the insanity.
Singer Jesse Irwin came out for the second song with a live snake wrapped around his head.
Wait, what? Holy shit, that's a real snake.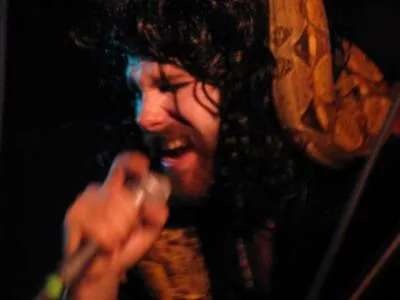 Later, he wrapped himself around the working guillotine.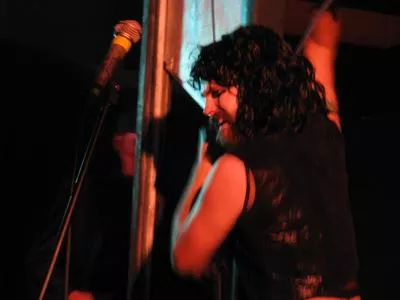 Wait, what? Yes, that's right -- working guillotine. Which Irwin built yesterday morning. And used to slice and dice, among other things, a cucumber, watermelon, stuffed snake, stuffed teddy bear, a skull and a Stag beer.
The band's make-up was impressive, in particular drummer Ryan Adams' cape/whiteface/tassel pants. But Justin Brown's look was also choice.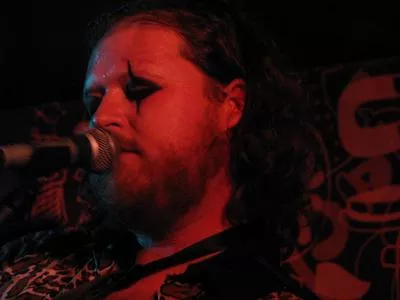 Next weekend, from what I hear, should be just as epic. I can't wait.
-- Annie Zaleski