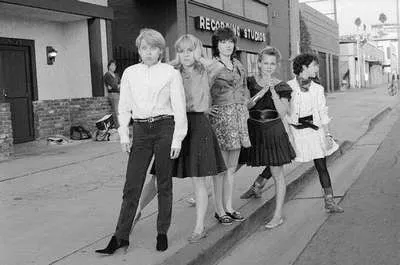 Better Than: Dancing around your apartment to the Go-Go's while wearing an off-the-shoulder sweatshirt.
"The '80s will never die as long as we're around!" Go-Go's guitarist Jane Wiedlin said cheerfully during the quintet's concert last night, which was the first at the new Lumiere Theatre at downtown casino Lumiere Place. My show companion grumbled a bit about this statement, but I tend to agree with the pixie-haired Wiedlin – and don't think that's a bad thing at all. After all, is there a group which better sums up new wave's breezy sensibilites – and juxtaposition of carefree pop music with heartbreak -- than the Go-Go's? What's not to love about a band of talented women preserving an era of music which exuded pure, unadulterated fun?
While no longer based in southern California (whose sunny climes influenced much of the Go-Go's work, whether we're talking dirt-punk, power-pop or surf-rock), the quintet hasn't lost any of its SoCal style. Drummer Gina Schock's hard-hitting surf licks on "Beatnik Beach" and bass-heavy cheerleader chant "Get Up and Go" conjured lazy days at the beach, while a reflective "This Town" – dedicated last night to St. Louis, but in reality about LA – and "Fading Fast" oozed the seedier, sadder side of Cali. Charlotte Caffey contributed piano trills for "Head Over Heels," which was one of many songs to feature impressive multi-part harmonies.
After "How Much More," Wiedlin noted that it might be weird for some in attendance, because the band's instrumentation is "all real, no tapes." (She also remarked something to the effect that they're an all-girl band playing its own instruments – which was a sad statement, because there's something wrong that that's still a novelty in 2008.) But the Go-Go's might be a stronger live act now than it was in the '80s. Bassist Kathy Valentine was quietly badass, as were guitarists Caffey and Wiedlin; the latter rocked out on a red-sparkle guitar. Vocalist Belinda Carlisle's voice was also strong and clear, and she skipped and preened onstage like a glamorous performer.
Chalk it up to experience: All five members have had (or currently have) post-Go-Go's bands and solo careers. Carlisle released a French-language album last year, Wiedlin is writing new tunes, and many in the band have quietly made their names as songwriters for other acts. (Schock co-wrote "Breakout," on Miley Cyrus's new album of the same name.)
All of these musical nuances emerged gracefully at the new, 400-capacity Lumiere Theatre – mainly because the sound was fantastic. It's rare to see a show in town and be able to hear each individual instrument and vocal harmonies – no matter where you're sitting in the room – but that was the case last night. Located on the second floor just off of the casino's main entrance, the venue itself is sparsely decorated; crushed red-velvet curtains encircled the room and the stage lights were tasteful and non-flashy, which contributed to the theater's intimate feel. Rows of folding chairs didn't prevent excited fans from moving up closer to the stage to dance "Soccer moms gone wild!" said my companion. (Special props to the cute old man in the powder-blue suit behind me, who was dancing up a storm with his lady friend.)
Still, most in the older-skewing crowd seemed unfamiliar Go-Go's non-singles and rarer cuts, such as "Cool Places," Wiedlin's solo collaboration with electro-weirdos Sparks. Her remark that they all look so young because of "clean living" went over like a lead balloon -- the band's drug dalliances and tawdry backstage exploits are now legendary -- while a confused reaction and half-hearted applause met her question, "How many of you here have dated a Go-Go?" (Apparently no one in the crowd had, causing an amused reaction from the band.) The only bit of pandering might have been a cover of Billy Idol's "Dancing With Myself" in the encore; the final song, "Let's Have a Party" is a cover song the band has played since the late '70s.
One gets the impression that the ladies realized the absurdity of the concert situation, but were having too much fun onstage to care. As last night proved, the Go-Go's are about as far away from a cheesy casino act as it gets. The band plays three more shows in town, starting tonight.
Personal Bias: As a lower-case Z growing up in the mid-'80s, I loved Belinda Carlisle's solo hit "Heaven is a Place on Earth." Naturally, I became a huge Go-Go's fan in high school. It's also safe to say I was the biggest Go-Go's fan in my high school. (Especially since we're talking the years 1995 and 1996.) In fact, while I've always thought my fashion sense was Stevie Nicks-influenced (black, lace, black lace), I now realize it's much more Go-Go's – the funky tights (Wiedlin), funky dresses (Charlotte Caffey, Kathy Valentine), sparkles (Carlisle).
Also, I want to look as fantastic as they do at 50 when I'm 35.
Critic's Notebook: I'd go see concerts at the Lumiere Theatre again in a heartbeat. Besides being an easy drive into the city (instead of a long trek out to St. Charles or Maryland Heights), parking is (relatively) painless, the stage is closer, and you don't feel like you're at a cheesy revue.
Also, Go-Go's outfits (because I'm a clotheshorse and I covet):
Belinda Carlisle: Glittery, demure top; black pants that were tapered, but not legging-like. Ladies, that's how it's done.
Kathy Valentine: Purple satiny dress with a sheer black top, along with leopard-print ankle boots. Props for the guitar strap with "KV" in sparkle letters.
Jane Wiedlin: Black-and-white striped tights, black pleated skirt, white button-down shirt, black tie. Pretty sure I can pull that off with what I have at home.
Charlotte Caffey: Knee-high boots, form-fitting brown/black dress with lace cap sleeves. Totally Bangles-esque.
Gina Schock: Black track pants and a T-shirt. Homegirl worked hard, dressed for comfort.
Setlist: "Vacation" (1982's Vacation) "Tonite" (1981's Beauty and the Beat) "This Town" (Beat) "Our Lips are Sealed" (Beat) "Cool Jerk" (Vacation) "Cool Places" (Wiedlin solo hit, originally with Sparks) "Fading Fast" (Beat) "Head Over Heels" (1984's Talk Show) "How Much More" (Beat) "Get Up and Go" (Vacation) "Mad About You" (Carlisle solo hit) "Skidmarks On My Heart" (Beat) "Beatnik Beach" (Vacation) "We Got the Beat" (Beat)
Encore: "Dancing With Myself" (Billy Idol cover) "Let's Have a Party" (Wanda Jackson cover)