COBRA VERDE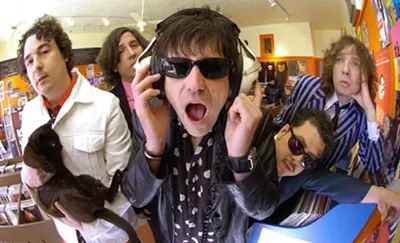 HQ: Cleveland, Ohio Website: MySpace; website The Story: Formed from the ashes of legendary '80s Cle rockers Death of Samantha (Doug Gillard, of this post, was guitarist in that band), Cobra Verde -- featuring DoS vocalist John Petkovic, Gillard and drummer Dave Swanson -- formed in 1992. Although Petkovic remains the last original member, the line-up changes haven't changed CV's timeless formula: swaggering rock & roll based around glam, punk and loose-limbed garage. 1999's Nightlife is a personal favorite.
MP3: Cobra Verde, "Montenegro"
MP3: Cobra Verde, "I Feel Love" (Donna Summer cover)
Scat releases:
"Montenegro" from 1994's
Viva La Muerte
; "I Feel Love" from 2005's
Copycat Killers
, a covers disc.
What came next?
The band's releasing a new album on Scat,
Haven't Slept All Year
, on October 28. You may have also heard them make Foreigner cool-cool (and not ironic-cool) on
The O.C.
; the cover of "Waiting for a Girl Like You" on its MySpace is flawless.
FINN'S MOTEL
HQ: St. Louis, Missouri Website: MySpace The Story: Joe Thebeau -- a veteran of local '90s group the Finns -- is the main man behind Finn's Motel (the name refers to the loose, rotating cast of musicians in the line-up). I've described the music thusly elsewhere: "a catchy platter of ragged Replacements thrash, ringing power-pop and sprightly, second-wave Nuggets garage rock" and "Like kindred spirits the Love Experts locally — and Guided by Voices, Superchunk and the Replacements nationally — Joe Thebeau of Finn's Motel values keen pop hooks, fuzzy chords and a fine melody over most everything else."
MP3: Finn's Motel, "Of Cycles and Engines"
MP3: Finn's Motel, "Accelerate and Brake"
Scat release:
Escape Velocity
, 2006.
What came next?
Thebeau says all of the Prisonshake activity likely will keep Finn's Motel off the stage until next year. (That's no exaggeration: Prisonshake's Robert Griffin, Steve Scariano and Patrick Hawley are in both bands, and Thebeau too has played with 'em.) But he also says he's "started recording new songs and will likely remain hunkered in the basement bunker for the better part of the fall/winter working on them. Working album title, at this early stage, is
Into the Realm of Jupiter Rex
."
NOTHING PAINTED BLUE
HQ: California Website: MySpace; www The Story: Franklin Bruno and Kyle Brodie started Nothing Painted Blue in the late '80s. Over time, its associates might have become more famous -- Joey Burns, from Calexico/Giant Sand, was the bassist in the early '90s for a spell, and Bruno has contributed to a ton of Mountain Goats albums and is in the Extra Glenns with head 'Goat John Darnielle -- but NPB's compact pop deserves a larger audience. Smart, literate lyrics drive its diverse music -- which encompasses noisy guitar swerves, bass-heavy post-rock (really; think early Promise Ring), faded jangle-pop and bedroom acoustic folk. Had Pavement not been so hell-bent on being askew -- and if the Mountain Goats were a bit more hi-fi -- it might have resembled Nothing Painted Blue.
MP3: Nothing Painted Blue, "Love to the Third Power"
MP3: Nothing Painted Blue, "Missed the Point"
Scat release: Both songs from 1997's Emotional Discipline. What came next? The group is more or less in suspended animation; its last album was 2005's Taste the Flavor, and as its website says, "we all still like each other, and are unwilling to actually promise you that we won't record or play again." Bruno wrote a 33 1/3 book on Elvis Costello's Armed Forces, has a doctorate in philosophy and even has a new band, The Human Hearts, whose debut, Civics, arrived in 2007. His blog is HERE.
MY DAD IS DEAD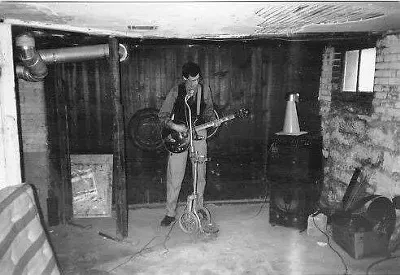 HQ: originally Cleveland, Ohio; now Chapel Hill, North Carolina Website: MySpace; WEBSITE The Story: To say My Dad Is Dead was both before and of its time is no exaggeration. Although the group -- which Mark Edwards formed in 1985 -- aligned well with sighing post-punk and British/Aussie brooders (see also Echo & the Bunnymen, the Church, Chameleons), its music also owed quite a bit to the dreamiest bits of the Velvet Underground (and as a corollary, the late, great Luna) -- and has aged fantastically well. Monochrome chords and beatific gloom drones were thoughtful but somehow not weighed down by sadness; instead, MDID specialized in the sympathetic melancholy that somehow became comforting. The band's discography is long and detailed; check it here.
MP3: My Dad is Dead, "Without a Doubt" (Peel session)
MP3: My Dad is Dead, "Nothing Special" (Peel Session)
MP3: My Dad is Dead, "Old Toys or a Boat"
Scat release: The original version of "Without a Doubt" is on 1991's Chopping Down the Family Tree. "Old Toys or a Boat" comes from a split 7-inch with Prisonshake. What came next? My Dad is Dead is still alive and well, although now based in Chapel Hill, North Carolina. Its last album, A Divided House, came out in recent years, although Edwards says he's working on new tunes. Like other DIYers, the band has a slew of free downloads -- find a bunch of out of print albums and rarities HERE -- and its own online store, found HERE. It also plays out sporadically -- and in fact, made an appearance at SXSW 2008.