The ticketed start time for Bruce Springsteen and the E Street Band's St. Louis show was 7:30 p.m., although I was told the band had been going on closer to 8 p.m. On Saturday night at the Scottrade Center, both of those target times passed with nary a legend appearing onstage. The packed arena grew more and more restless as the minutes kept ticking away. 8:15. 8:30. Finally, a bit after 8:45 p.m., a murmur went through the crowd: St. Louis Cardinals manager Tony La Russa and several other people weaved through the arena to their seats. Not even a minute later, the lights went down.
Since the Cardinals' mid-afternoon game contained a rain delay and ran for over three hours, one wonders if the concert was delayed for Tony. It's not out of the realm of possibility; after all, La Russa is inarguably one of the city's biggest celebrities. But any grumbling about the delay dissipated as soon as Springsteen and the eight-piece E Street Band stormed onstage and launched into a rollicking, fantastic cover of the Crystals' girl-group classic "And Then He Kissed Me."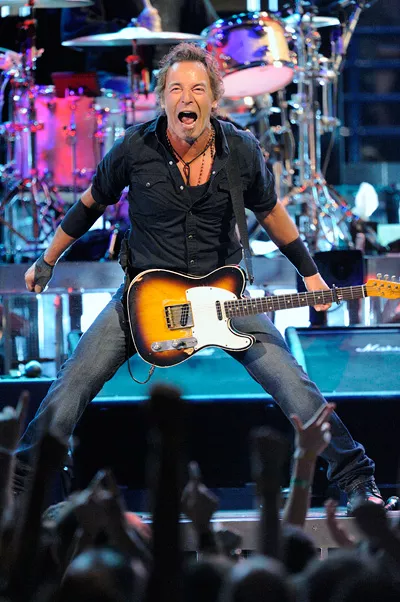 The band then proceeded to perform an awe-inspiring three hour and fifteen minute set that was light on recognizable hits, but heavy on songs from latest album Magic and album cuts. The highlights of the show are almost too numerous to mention. A smoking version of "Because the Night" – which was popularized by Patti Smith, but co-written by Springsteen -- found guitarist Nils Lofgren cutting a blazing streak. A set-closing, epic take on "Badlands" had the entire crowd shouting out every word, while the encore rendition of "Jungleland" began with quiet piano and ended with Springsteen growling like a man possessed by a feral animal.
The crowd danced with unselfconscious abandon throughout, and especially pounded its fists in time with the rallying cry of "Born to Run": "Tramps like us, baby we were born to run!" The post-9/11 anthem "The Rising" inspired mass sing-alongs as well, its uplifting chorus buoyed by the arms-raised audience. A faithful, '50s-rock cover of Chuck Berry's "Little Queenie" – by request – also energized the crowd. "American Land" felt like a Pogues cover (or a Flogging Molly song), what with its dueling accordions (!) courtesy of Roy "The Professor" Bittan and fiddle from Soozie Tyrell. Only a few tunes – mostly songs from Magic, like "Girls in Their Summer Clothes" – truly killed the energy of the set, mainly due to slower tempos or less-fleshed-out arrangements.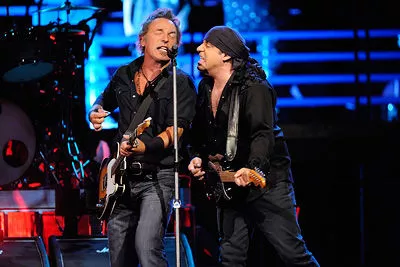 For a 58-year-old – no, for any year old -- Springsteen is in fantastic shape, and looks just a tad bit older and grayer than he did during the Born in the U.S.A. days. (Saxophonist Clarence Clemons seemed to move a bit slower, and spent a fair part of the set in a plush throne -- no exaggeration, although he's certainly earned the place of honor for being so badass.) His voice also sounded terrific – gravelly in the all the right places, soulful when it needed to be and bulldog-tough if necessary. His boundless energy was also a sight to behold, his iconic Springsteenisms – scrunched-up guitar face, guitar windmills, back-to-back playing with Little Steven -- only part of his animated persona. The Boss ran across the front of the stage on a brief extended platform constantly; since it served to bring the crowd closer to the band, he played the part of politician by clasping hands, waving at audience members and even jumping into the throng a few times. (As my show partner noted, "[Indie-electro crowd-fomenter] Dan Deacon has nothing on him.")
The E Street Band could pull a Tom Petty or a U2 and do a tour focused heavily on hits, but they don't – and that almost makes the show better, as the unexpected setlist keeps both the audience and band on its toes. As if to demonstrate the E Street Band's looseness, Springsteen took requests all night from the crowd. People held up hand-drawn signs with song requests and lyrics. He gathered them together like Santa Claus gathering gifts and brought them onstage, only to sift through the pile and pick out songs to play. At one point he joked he was going to "challenge the band – and the audience!" with the selections, although he was careful to note, "The elephant never forgets!"
And indeed, Springsteen didn't forget the songs named on those signs – from "For You" (1973's Greetings from Asbury Park, N.J.) to "Rendezvous" (a non-album cut that Greg Kihn recorded) to chestnut "Mountain of Love" and "Backstreets" (1975's Born to Run). In fact, save for newer tunes "The Rising" and "Radio Nowhere," the only two so-called "radio hits" they played were "Born to Run" and "Dancing in the Dark." (For the latter, he brought up a blonde-haired lady to dance with him, a la the video.)
Springsteen's liberal politics are a given – although the only direct reference to such he made was a brief preface where he mentioned the "last eight years" before the Stones-y Magic tune "Livin' in the Future." References to God and religion, however, also frequently crop up in his stage banter. In fact, much of the show felt like a cleansing revival, including before "Mary's Place" where Springsteen paced in front of the stage talking about music and noise, with the evangelical air of a preacher. ("We play the music, if you bring the noise!") But unlike the current American climate – where liberality and religion are antithetical – Springsteen can mention the two in tandem and not make it a moral issue. That's one reason why he's so universally beloved, but it also underscores his place as the quintessential American artist, someone whose tenets and beliefs align with the nation's original ideals of freedom of worship – and the idea of church and state separation, where religion doesn't impede on government.
It seems almost too hyperbolic to call Springsteen and the E Street Band an American treasure, but after seeing them live, it's hard not to anoint them as one. The topics addressed in their songs are often serious, but the stories about America and its people are a celebration -- of nostalgia, of simplicity, of being alive. More important, these stories are wrought with emotion and passion that's wholly sincere – and incredibly inspiring. The sheer endurance of the musicians is also a testament to the joy they take from performing. In fact, you could barely get Springsteen to leave the stage: After taking one bow with the E Street Band after an appropriately climactic "Thunder Road," he decided to take one last request and cover Chuck Berry's "Little Queenie." Another bow begat an impromptu party-band cover of "Twist and Shout," apparently by shouted-out request from someone in the crowd. Still grinning, the band left the stage and the houselights came up.
Personal Bias: I was totally dancing like Courtney Cox does in the "Dancing in the Dark" video during the song. Or at least I was trying to. I also bought the tour T-shirt that says "Tramps like us, baby, we were born to run."
COMPLETE SETLIST -- cobbled together from several RFT writers:
1. Then She Kissed Me (cover of The Crystals' "Then He Kissed Me") 2. Radio Nowhere 3. Out In The Street 4. Adam Raised A Cain 5. Spirit In The Night 6. Rendezvous 7. For You 8. Mountain Of Love (Johnny Rivers Cover) 9. Backstreets 10. Gypsy Biker 11. Because The Night 12. She's The One (Featuring "Not Fade Away" Intro) 13. Livin' In The Future 14. Cover Me 15. Mary's Place 16. Drive All Night 17. The Rising 18. Last To Die 19. Long Walk Home 20. Badlands
encore 21.Girls In Their Summer Clothes 22. Jungleland 23. Devil In A Blue Dress (Medley; Mitch Ryder et al Cover) 24. Born To Run 25. Dancing In The Dark 26. American Land 27. Thunder Road 28. Little Queenie (Chuck Berry Cover) 29. Twist And Shout (Isley Brothers Cover)"
-- Annie Zaleski -- Photos by Todd Owyoung