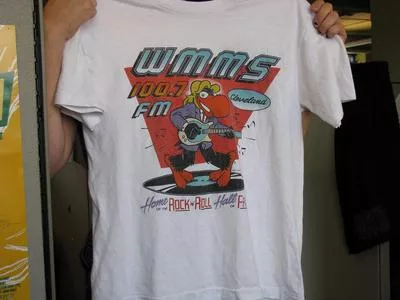 (Me, with my vintage WMMS T-shirt. 100.7 FM is Cleveland's legendary classic rock/new music station.)
I'm a firm believer that you can never truly know a person until you know from whence they come. And as everyone knows, I'm a Cleveland gal, loud and proud, born and raised. I have so much Ohio pride, in fact, that I still have my driver's license from there, and it's paining me to buck up and get a Missouri license in the coming weeks. (Hi, St. Louis cops! Don't pull me over!)
Like the pride many (including myself) have for St. Louis, my Cleveland pride stems a bit from the city's underdog status. Our sports teams are generally hard-luck, the embodiment of "always the bridesmaid, never the bride." Guaranteed, this time of year is when the city's thoughts turn to football -- the NFL's Browns and the Ohio State Buckeyes (the state's college football team), because the Indians have no shot at the playoffs. And like how everyone from out of town associates the Lou with Nelly and the Arch, the two things people know most about Cleveland is the Cuyahoga River catching on fire -- and seriously people, that was years ago -- and The Drew Carey Show, whose blue-collar characters really do align with the city's salt-of-the-earth sensibilities.
So, I'm dubbing this week on A to Z Cleveland Rocks! week, due to Wednesday's Nine Inch Nails show at the Scottrade Center (the band started in C-Town, after all) and my feature on Prisonshake on Thursday -- a St Louis band whose roots are in Cleveland. We'll have lots of anecdotes and insanity from Trent Reznor's days in the Rust Belt, along with lots of good music associated with Prisonshake and its label, Scat Records, and a special guest post or two talking about other good tunes associated with the town.
Because, after all, Cleveland Rocks!