(Words and photos by Annie Zaleski; entire Flickr set here.)
Jon Hardy & the Public played the Chapel on Friday, August 8. The 150-person capacity venue -- which is located in the back of a church, right off of Skinker near Washington University -- shows a lot of promise, despite having sound system problems at the show. Five dollars earns you admission into the show and two free drinks (wine and beer -- and we're not talking PBR either). The space is also planning to host art shows in the coming months.
I can't say much more about the band's performance that we haven't said before; the group is one of the best, most consistent and entertaining live acts in town, thanks to strong songs, charisma and innate chemistry.
MP3: Jon Hardy & the Public, "Trouble"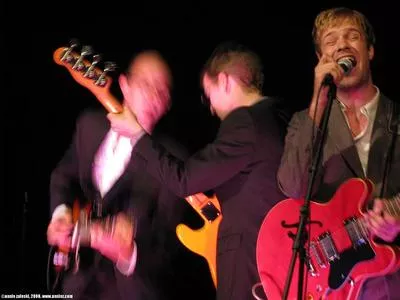 Check out more photos of the band and venue after the jump.