(All photos by Karen Wasoba; click for larger images)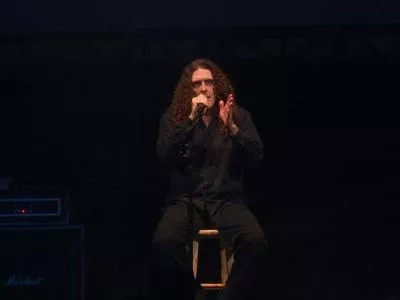 Go to a hardcore show, you see hardcore kids. Go to an emo show, you see emo kids. Ska show, ska kids, etc. But when you go to a "Weird Al" Yankovic show, you see everybody: dads and sons in matching Hawaiian shirts, preteens in Less Than Jake hoodies, moms dressed in their Sunday best, Star Trek enthusiasts, seven-year-old Hannah Montana doppelgangers, kids in Pampers and geriatrics in Depends. There was no pretension and no concept of "cool" in any way, just folks looking for a good laugh -- which might be why Yankovic's performance at the Family Arena in St. Charles last evening was one of the most purely entertaining concert experiences I've had in years.
Accordion in hand, Yankovic and company began with "Polkarama," which mashed together Coldplay, Black Eyed Peas, Velvet Revolver and other hits of recent yesteryears while the songs' videos played on the three giant screens above the stage. I chuckled during sped-up-for-polka-purposes videos by Franz Ferdinand and Modest Mouse, and even sentimental during clips of Weezer after I recalled its 2001 performance at the Family Arena. "Polkarama" immediately showcased the talent and diversity of Al's band, nailing the multiple tempo changes and harmonies required by the surprisingly demanding polka medley.
(Al as Kurt Cobain)
The Green Day parody "Canadian Idiot" followed, with "Weird Al" changing into a Billie Joe Armstrong-inspired black shirt/red tie getup. These costume changes continued throughout the evening, with Yankovic donning outfits reminiscent of Beck, Eminem, Gilligan (during the unreleased cut "I'm In Love With The Skipper"), R Kelly, Michael Jackson, Zack De La Rocha, Kurt Cobain, Chamillionaire, and Michael Jackson in both the red jacket "Eat It" incarnation and the trademark chubby suit of "Fat."
All costume changes were facilitated by hilarious video clips, mostly from his "Al TV" segments, in which interviews are mocked up into ridiculous satires of celebrity personas. Although the clips were functional to the technical needs of the performance, they were every bit as entertaining, if not more so, than some of the songs themselves. Personally, I'll take a wit's-end Al, fed up with Keith Richards' illogical ramblings over "It's All about the Pentiums," a P. Diddy parody that was hard to understand live and a little too computer nerd inside joke circa 1998.
One thing was undeniable, though: "Weird Al" Yankovic is a performer. Red and white streamers soared into the audience during "Canadian Idiot," and a shower of fake "Weird Al" 100 dollar bills showered down during "Pentiums." Throughout "Wanna B Ur Lover," a style parody of Midnight Vultures-era Beck, Al brought his wireless mic into the crowd, swooning every lady that was lucky (or unlucky) enough to have aisle seating. One particular crowd member got more than a handful of Yankovic, as he sat on her lap, eventually wrapping his entire body around her like a feathered boa of lengthy pubic hair.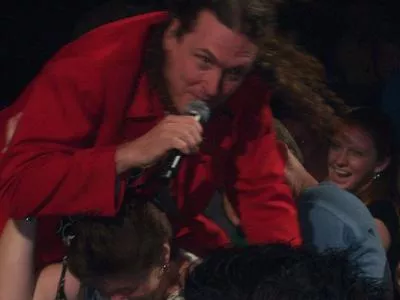 During "The Saga Continues," an "American Pie" spoof wildly popular among the comic book crowd, several audience members joined Yankovic on stage in full-body storm trooper suits, dancing along with glee.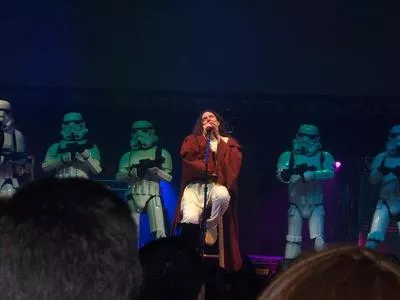 "Saga" was followed by "Yoda," Al's take on "Lola" by the Kinks, which ended in a massive sing-along. "Now you sing!" Al yelled as he pointed his microphone to the crowd. After one repetition of the chorus, Yankovic said "now just the transvestites!" The audience chuckled and looked around to search for cross-dressing singers, of which there were none.
This was one of a few times where "Weird Al", who has famously mocked songs and videos, successfully lampooned the concept of live performance and ridiculed its clichés. Earlier in the set, he declared "It's been about ten minutes, time for a drum solo!" After a few seconds of cheers, Jon "Bermuda" Schwartz, Al's longest-running band member, struck his kick drum and snare drum one time each. During the group's encore, the eleven minute "Albuquerque" from 1999's Running With Scissors, Al brought focus upon the guitar player, who had been relentlessly wailing for a majority of the song. As the spotlight illuminated him, he played his guitar like an 11-year-old kid who unintentionally picked up the instrument backwards and tried to pick out the solo to "Paradise City" by ear.
As "Albuquerque" progressed, Al nearly tormented the crowd with the length of the song, stretching it to nearly 20 minutes and "accidentally" forgetting lyrics and starting it over. During these golden moments it was apparent that, despite the extremely diverse crowd and the smile plastered onto my face, nobody was having more fun at the "Weird Al" show than Yankovic himself.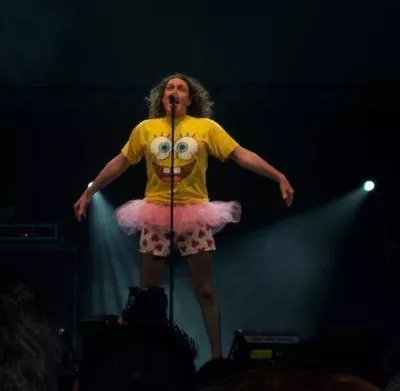 SET LIST: "Polkarama" "Canadian Idiot" (one second drum solo) "Close but No Cigar" "Bob" AL TV fake interview: Jessica Simpson "It's All About The Pentiums" AL TV fake interviews: Mariah Carey, Celine Dion "You're Pitiful" AL TV fake interviews: Madonna, Steven Tyler "Wanna B Ur Lover" AL TV fake interview: Eminem MEDLEY: Couch Potato/Do I Creep You Out/I'm In Love with the Skipper/Confessions Part III/A Complicated Song/eBay "Spiderman" "Pretty Fly For a Rabbi" "Trapped in the Drive Thru" "Gump" "Eat It" AL TV Fake interview: Keith Richards "I'll Sue Ya" AL TV Fake interview: Paul McCartney, Snoop Dogg "The Saga Begins" "Yoda" AL TV Fake interviews: Cher, Justin Timberlake "Weasel Stomping Day" "Smells Like Nirvana" AL TV Fake interviews: Michael Stipe, Avril Lavigne "Amish Paradise" AL TV Fake interview: Kevin Federline "White and Nerdy" "Fat"
ENCORE: "We all have cell phones, so let's just get real" (inspired by Michael Stipe's fake Al TV interview) "Albuquerque"
-- Ryan Wasoba