(Selected and written by Ryan Wasoba)
5. "One More Minute" Link: http://www.youtube.com/watch?v=r41U_T7pQjQ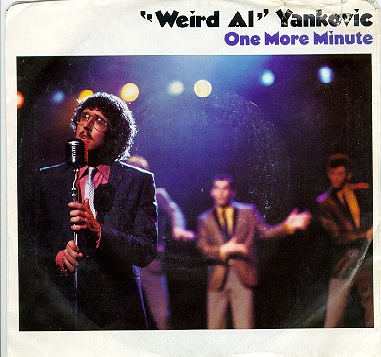 With journalistic integrity in mind, I must admit that I once "performed" this song at a lip-syncing contest when I was nine. I won second place to a production of Bert and Ernie's "Rubber Ducky," complete with shower caps and a fake cardboard bath tub. This may have been my first experience with heartbreak, a concept that Weird Al sensationalizes oh-so-well in this tune. An original song in the style of doo-wop, "One More Minute" takes the opposite approach of the longing displayed by 99.9% of songs in the genre: You left me, screw you, I never want to see you again, and I hate you THIIIS much. The video merely strengthens the song, adding literal images to the song's ridiculous claims of "I'd rather spend eternity eating shards of broken glass," "I'd rather rip out my intestines with a fork" and "I'd rather clean all the bathrooms in Grand Central Station with my tongue," eventually climaxing with "I'd rather rip my heart right out of my ribcage with my bare hands and then throw it on the floor and stomp on it until I die."
NOTE: In the same way that dirty jokes hidden in children's movies don't sink in until you are much older, my twenty-four year old self just realized the perversity of "I'm stranded all alone at the gas station of love and I have to use the self-service pumps," a masturbation reference that, if my nine year old lip-syncing self would have understood, would have certainly made me blush.
4. "Eat It" Link: http://www.youtube.com/watch?v=Gkq7HLBe178
"Eat It" marked a number of firsts in Weird Al's career: first abandonment of the accordion, first attempt to make a parody sonically reminiscent of the original song, and perhaps most importantly, it was the debut of his effort to parody the original video as well as the song. The success of the video was a stigma that stuck with him for years, as he complained about being peg-holed as "the 'Eat It' guy" for years to come in his notorious VH1 "Behind the Music" episode.
A side-by-side comparison with Michael Jackson's "Beat It" only proves the dedication Al puts into his farces, as every detail of the original video is recreated and subsequently destroyed, from the antagonist's smiley face jacket to the rubber chicken-holding knife fight at the end. And who could forget the infamous guitar solo, proving that any attempt to mock Eddie Van Halen's epic shredding that marks the dramatic apex of "Beat It" will result in an exploding guitarist.
3. "Amish Paradise" Link: http://www.youtube.com/watch?v=GsfVw9xxoNY
Coolio famously objected to "Amish Paradise," claiming that the subject matter of "Gangsta's Paradise" was too serious to be made fun of. (Perhaps Coolio was bummed that Weird Al was remarkably clever with "Amish Paradise" than his twisty-haired self was in re-writing Stevie Wonder's "Pastime Paradise" in the first place.) All that aside, "Amish Paradise" was Al's first wildly successful flirtation with hip-hop, a fascination that began with 1992's TV-hating MC Hammer spoof "I Can't Watch This" and pinnacled with last year's Youtube-centric "White and Nerdy."
The dissonance between the Amish imagery of the video and the supposedly somber hip-hop beat is a recipe for hilarity, not to mention Florence Henderson's brilliant cameo in one of the few moments in which "Gangsta's" video is referenced. And who could forget some of the last few seconds of the video, shot entirely backwards, requiring Yankovic to learn the the words in reverse. "Amish Paradise" marked a re-invention of sorts for Weird Al, in which his 1996 album Bad Hair Day album proved that Al was still relevant amidst a constantly changing mainstream.
2. "Dare To Be Stupid" Link: http://www.youtube.com/watch?v=2nIlFsERnmk
When asked about Weird Al's "Dare To Be Stupid" in an interview, Devo frontman Mark Mothersbaugh soberly said, "The synthesizer sound in that song is brilliant, and I hate him for that." "Dare To Be Stupid" brilliantly captures the eccentricities of Devo without specifically aping any of their songs, from the band-approved synths to Al's urgent vocal delivery. The video is absurdity to the max. Literal images a la "One More Minute" are interspliced with asinine black and white stock footage and preposterously random, borderline post-modern images.
"Dare" is also one of the few videos in which Al's band takes a starring role; the guitarist's toaster guitar is a highlight, as well as the rotating headless bass guitar (causing the bassist to switch between left- and right-handed playing) and the drummer's human-feet xylophone. It's fitting that Yankovic would let his band in on the fun. Weird Al may be the brains of the operation, but it's his band that gives him the facility to pull it all off.
1. "Smells Like Nirvana" Link: http://www.youtube.com/watch?v=UnuHJZMdako
Countless diatribes have been written about how Nevermind changed the world, saved rock & roll, gave a voice to a new generation, fed the poor, etc. but to the generally white-bread Weird Al audience of 1992, "Smells Like Teen Spirit" sounded inexplicably alien. In hindsight, the anarchist cheerleaders' bushy armpit hair, the dismembered limbs in the mosh pit, and the tutu-wearing janitor of "Smells Like Nirvana" seem to almost act as a social statement, given Al's general demographic; the people that bought Weird Al records in the early '90s were supposed to be frightened of the slacker generation and the visuals in "Smells Like Nirvana" come off as more of a parody of that fear of the parallel universe that Cobain and Co. attempted to showcase than a straight mockery of the video itself.
Yankovic's video for "Smells Like Nirvana" succeeds so greatly in part because, without the video, the song is nearly unlistenable. It's hard to stretch the concept of undecipherable lyrics into 3 minutes and 35 seconds (appropriately chopped down almost a minute and a half from the original) and Al doesn't exactly succeed. The saving graces of the song come in the instrumental sections, with "Teen Spirit's" guitar squeels approximated by farm animals, belches, water gargling, kazoos and a tuba courtesy of the tutu-wearing janitor. It's a testament to Cobain's sonic acrobatics that, intentionally or not, showcases Yankovic's tendency to tribute great artists just as much as he pokes fun at them.