Artist: Sea Level
Album: Cats on the Coast
From: Vintage Vinyl's 99 cent bin.
Year: 1977
Label: Capricorn Records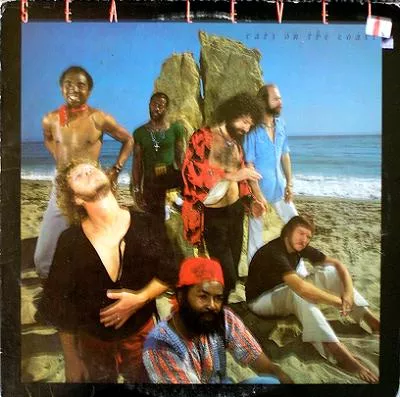 What it sounds like: If the Grateful Dead were taken over by an egomaniacal keyboardist who wanted to make existential, jazz/alt-country elevator music.
Best Track: "Had to Fall." The only song on this album with any flavor. That flavor? Spicy Cajun. The lyrics sound like a cheap Creedence knockoff: "I was down in Louisiana/ Underneath the Cajun moon/Way out in the middle of nowhere/Why'd I have to run into you/You with the voodoo eyes." Of course they end up going back to her "little shack" that she calls "the palace of love."
The song has lots of crunchy, bluesy guitar solos -- heavy on the wah pedal made this one palatable. Also, by far the most toned-down keyboards of any song -- in fact it was catchy, reminding a little bit of the keys on Spoon's "My Mathematical Mind."
Worst Track: "Storm Warning" Of the eight tracks on the album, four are instrumental. This one opens with a jaunty, tinkling keyboard solo that goes on. And on. And on. And on. It moves up and down the keys and eventually it's like "Flight of the Bumblebee" on keyboard. This song would have sold a ton of ringtones back in the day to nerdy keyboardists. In fact, I'm going to go so far as to say Chuck Leavell, the keyboardist and acoustic piano player, is the Neil Peart of the keys.
Eventually, the drums kick in. Then we get an extended soprano sax that made me feel like Garth at the dentist in Wayne's World. Then the keyboards come back and I just want the "storm" to come and put me out of my misery.
Who you can thank for the amazing cover art: They look like gay, hippie pirates marooned on a deserted island by the crew of the H.M.S. Buttrock. Art direction by Diana Marie Kaylan. Photography by David Alexander.
Interesting Facts: Via Wikipedia: Sea Level rose from the ashes of the Allman Brothers in 1976. Founding Allman Bros, members Chuck Leavell, bassist Lamar Williams and drummer Jai Johnny Johnson played in a band called We Three that also opened for the Allmans.
When the Allmans broke up, We Three expanded to a septet, recorded this album, and changed their name to Sea Level. (Get it, C. Leavell? You know like his initials and last name sound like…) Its hit song from Cats on the Coast was titled "That's Your Secret." The group released five albums in all, including a "Greatest Hits" compilation that is a must own for lovers of bland, jazz/alt-country fusion.
After Sea Level split up in 1980, Leavell went on to become the most famous keyboardist of all time. He worked in the studio with big names like George Harrison, Eric Clapton and the Rolling Stones. He still tours with the Stones as its keyboard player after officially joining the group in 1982. Apparently this is what it takes to get into the Music Hall of Fame in both Alabama and Georgia; Leavell is a member of both.