(click all pictures in this review for larger versions; Flickr set here)
Better than: Sucking on chili dogs, outside the Tastee Freeze.
You guys, I went to see Tiffany on Friday night! I was sort of sad, because she wasn't playing in a mall – she was playing at a casino in St. Charles. No, wait; more specifically, she was playing at a dance club, Home Nightclub, that's attached to the casino. Nevertheless, I applied my best Walgreen's-bought dark-red/pink lipstick and liner – although I was out of Wet 'n Wild nail polish, argh – and wore a cute little black dress for the occasion. (Don't tell my mom, but it was sort of slutty, short and low-cut. She'd not approve.)
We showed up around 10:30 p.m., soon after the doors opened. Not many people were there yet, although most that were there sported '80s attire, as that was the theme of the night. And by "'80s attire," I mean off-the-shoulder T-shirts, a couple of floofy prom dresses, leggings under skirts, Converse, popped collars and even a dude dressed like Michael Jackson ca. the "Thriller" video. The DJ also (mostly) kept with the retro theme, spinning new-wave, '80s electro and cheesy rock hits to keep the dancing going. (Surprise choices: T'Pau, "Heart and Soul," Boy Meets Girl, "Waiting for a Star to Fall." Dancefloor-filler: Soft Cell, "Tainted Love." Personal faves: New Order, Depeche Mode, Yaz.)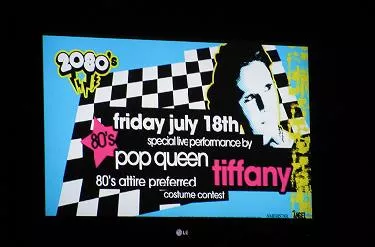 I sip a too-expensive drink, and time passes. 11 p.m. 11:30 p.m. Midnight. 12:30. We're getting restless, my feet and back hurt, the increasingly bad DJ splicing and song choices (seriously, Crystal Waters' "100%" and Naughty by Nature "Hip Hop Hooray" are NOT '80s jams) are irritating. But then somewhere between 12:45 a.m. and 1 a.m., the music screeches to a halt – and Tiffany bounds onstage.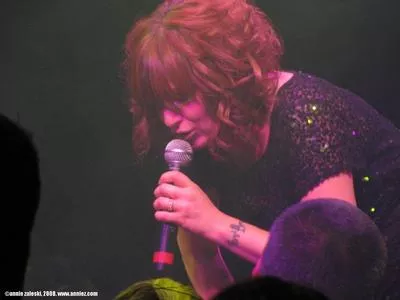 Tiffany. The '80s mall-queen, the redheaded rivaled only by squeaky-clean, hat-wearing Debbie Gibson for teen-girl pop-star supremacy. She drew quite a bit of attention in years past by posing for Playboy, but unlike other stars of her era, she's continued to record and release music; in fact, "Higher" reached the top 20 of the Billboard dance charts last year.
Naturally, she started her set by playing three of her newer electronica songs. Since we're not at a gay club – seriously, the crowd was "overwhelmingly heterosexual," as my friend put it – the music felt out of place. Like many other '80s icons (Cyndi Lauper comes to mind immediately), Tiffany has amassed a large, loyal gay fan base; in turn, the pop queen has found renewed success by producing the sort of booming, diva-driven techno favored by gay discos. But sadly, these newer tunes sounded faceless, exactly the same – which is largely due in part to the atrocious sound in the venue. High ceilings and a not-very-crowded room meant that everything boomed and echoed off surfaces – which further exacerbated the already-distorted, painfully loud music.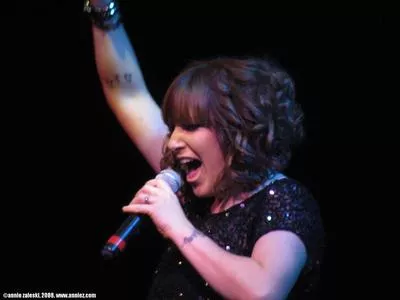 Unsurprisingly, the audience seemed disinterested until she stood stock-still on the stage to sing "Could've Been." The ever-present distortion couldn't hide how strong and clear her vocal performance was – and what a timeless, wistful song it still is, twenty years later. A well-received version of "I Saw Him Standing There" followed, as did a brief medley of songs (the only one I recognized was Yaz's "Situation," with Tiffany taking on Alison Moyet's part). The last song of the night, "I Think We're Alone Now," however, was downright epic. The background music was still gloriously cheesy, the crowd perked up and sang (and danced) along, and it was like I was back in second grade sporting yellow Converse all over again.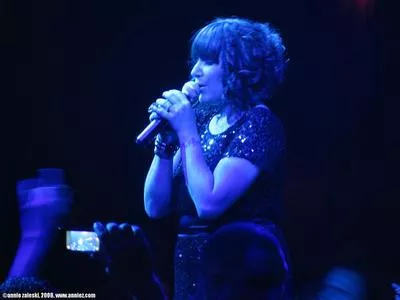 These old hits were what the crowd came for, and Tiffany delivered. Even with nostalgia heavy in the air, she didn't seem to mind. She seemed ecstatic to be onstage through the entire performance -- smiling and laughing constantly, and greeting and posing with fans. (All in a genuine fashion, I might add.) Not wanting to spoil the post-Tiffany glow, we left right after, walking out of the club as the DJ spliced the Shop Boyz hit "Party Like a Rock Star" straight into Bryan Adams' "Summer of '69."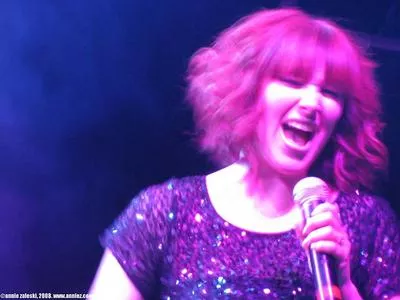 Personal Bias: I'm pretty sure I knew about Tiffany first and foremost from an episode of Full House, where D.J. and Stephanie got in trouble because they stayed up late to watch "Tiffany in Tokyo."
Critic's Notebook: Kinda dug Home, actually. While the drinks were (expectedly) expensive, I liked it as a club; it was big and spacious, with plenty of room to dance, people-watch and even sit.