A co-worker recently gave me a copy of Titus Andronicus' The Airing of Grievances, and enthusiastically described it as, "a cross between Bruce Springsteen and the Pogues being played from the bottom of a well."
When I popped it into my CD player I wasn't a huge fan-- too lo-fi and too much screaming for my taste.
Still, the songs had promise-- they were intense, anthemic and had some serious weight behind the lyrics. Enough to make me excited to see them live. That happened today at 1 p.m. the second act of the second day of Pitchfork Music Festival.
I was thoroughly impressed with their set today at Pitchfork. Singer Patrick Stickles was a man possessed. Sporting a Batman t-shirt (timely, eh?) and a big bushy beard, he was all over the wide festival stage, climbing scaffolding and screaming his lungs out.
The clincher, however, was the band and their songs. Free from their basement-style production on the album, the actual melodies and lyrics were in full effect. While they certainly draw from their Jersey brother the Boss in the scope of the songs, it was a much more garage rock aesthetic than their LP let on.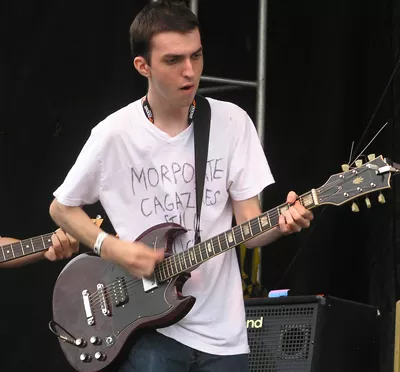 I got a big Black Lips/The Muslims vibe from them. At the same time, though, as a six piece they stuffed each song full of multi-part guitar harmonies, keyboards, and harmonica.
Maybe it was because they were much less pretentious than I expected from their album and buzz, but I liked what I heard and saw. The band rocked. Hard.