Twenty years ago Public Enemy released It Takes a Nation of Millions To Hold Us Back. Back then it was a powerful, controversial, in-yo-face, hard-hitting affront to the establishment. When they performed the album in its entirety last night at the Pitchfork Music Festival in Chicago, it was only a few of those things.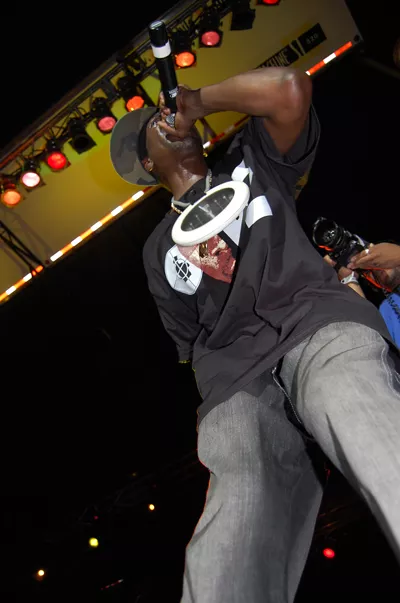 First, let me say this, Chuck D, despite packing on a few pounds since back in the day, still breathes fire on the mic. Songs like ''Don't Believe the Hype'' and ''Louder Than A Bomb'' proved he hasn't lost his booming voice or fierce flow.

And, as a whole, Public Enemy put on a helluva show. Backed by a full band (a huge difference when it comes to live hip-hop), the very talented DJ Lord, the fatigue-clad team of S1W, and, of course, the incomparable Flavor Flav, Chuck made the normally reserved Pitchfork crowd get downright rowdy.
When the Bomb Squad and Hank Shocklee opened with a crazy dub/electronica DJ set that included the lyrics ''Come let me roll with the spliff,'' the crowd duly responded by rockin' the ganj. And when PE dropped a funkin', fist-pumpin' rendition of ''Fight The Power'' to shut things down, shirts were shed and asses were shook.
Now the but (and it's a big one): It Takes A Nation just doesn't mean as much as it used to. A big part of the lack of gravitas is Flava Flav-- it's tough to buy into a serious political message coming from a guy who starred in what is possibly the most mind-numbing, soul-crushing reality TV show in history. With the clock around his neck and all of his bling he's always been a bit of a clown, but at one point last night he actually told the audience:
''I wanna thank y'all for making me number one in reality TV.''
When he began to pimp his newest show, the crowd responded with a shower of boos. Flav was pissed. He responded, ''You should be proud of a mutherfucker instead of booing. Boo is what you call your girl.''
Much of the album's lyrical content is still relevant. In fact, when Chuck's raps about ''the terrorists in your mind'' it takes on fresh meaning during this so-called ''War on Terror.''
In terms of being controversial and an affront to the establishment, the protest rhymes couldn't help but resonate as "been there, done that" with some concert-goers. When Chuck got the crowd doing the requisite ''Fuck George Bush'' chant, the person next to me cracked "He's really going out on a limb with that one." When you said, "Fuck George Bush" in 1988 it was a big deal, now it's what most twenty-somethings utter each time they turn on CNN. Don't get me wrong, It Takes A Nation was and is incredibly influential when it comes to hip-hop. At one point last night Chuck even claimed it is the hip-hop equivalent of the Beatles' Sgt. Pepper's Lonely Hearts Club Band But when compared to, say, Straight Outta Compton or KRS-One's entire discography, the impact of It Takes a Nation feels lighter.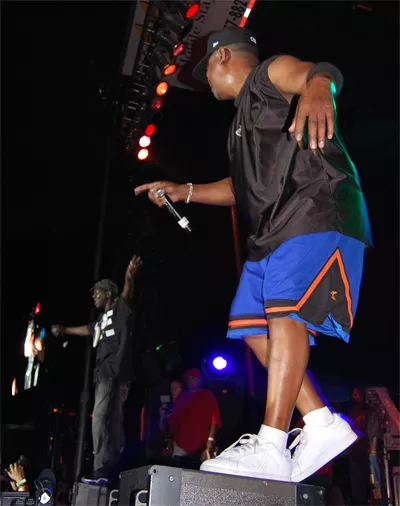 Ultimately, I thoroughly enjoyed Public Enemy's performance. Like I said, it was good enough to get the uptight crowd to let their guard down and get down. But it terms of it being an exercise in anti-establishment protest, it just plain wasn't that-- no matter how much Chuck and Flava wanted it to be.