As a native Seattlite (recently transplanted to St. Louis) I've felt quite at home thus far in Chicago.
Not only am I at a music festival (it seems like Seattle has about one every other week nowadays), but it's raining -- and a nice soggy Pacific Northwest drizzle at that. Adding to the familiar feel is the fact that KEXP, the best radio station, like, ever, is broadcasting live two tents down from where I'm typing this. I went over and caught up with KEXP's John Richards and found out just how much the music matters in the Windy City.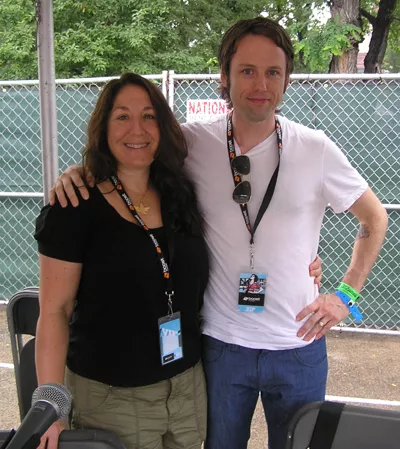 KEXP's Cheryl Waters and John Richards
Keegan Hamilton: You feeling at home with the rain this morning? John Richards: It's a different kind of rain, and of course we don't have the heat and humidity we had yesterday. But Chicago, the music scene and vibe is as close as it comes to back home, there's a lot in common. Plus there's a lot of native Seattlites that have moved here, so it does feel like home.
KH: You've been broadcasting up in Bucktown right? JR: Yeah, at Engine studios. The idea was to come here and showcase not just Pitchfork but the whole Chicago scene. We had T-Model Ford in the studio and this band The M's, they have some pretty good dance house grooves, they're a good little Chicago collective. So the idea was to do that then showcase the larger bands to. We don't want to come here and just be like 'Hey, it's !!!' or 'Hey it's the Hold Steady.' It's more 'Hey, here's Chicago music and this festival that's so Chicago.'
KH: We were actually hanging out in Bucktown last night. It kind of reminds me of Seattle. You get that at all? JR: Yeah, it's kind of Capitol Hill, maybe a little Ballard but flatter of course and a little more spread out. It's actually, you know, it's like Capitol Hill from 15th to Pike and Pine. It's residential but there's lots of little bars and coffee shops.
KH: Speaking of Seattle, how far have Fleet Foxes come in the past year? JR: Man, last year I saw them at the Capitol Hill Block Party. They were on the third stage and there were about 100 kids there, not even that many. They were as good then as they are now. We've known about them even longer than that, we've been playing them that long. Now the rest of the country finds out about it and once again Seattle has one of the biggest bands in the country. It's just like Band of Horses before them.
KH: Who are you going to feature from the festival? JR: Today we're going to broadcast some sets live, Caribou, Vampire Weekend, Dizzee Rascal, Fleet Foxes. We'll broadcast all of those then we'll have people stopping by for interviews. We'll have people by then we'll be spinning live and doing our regular programming from here.