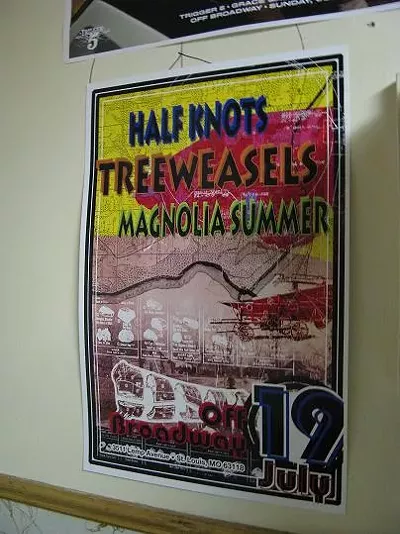 (by me, taken in Off Broadway's ladies bathroom)
This Saturday sees a reunion of sorts for the Treeweasels, a long-ago St. Louis group. Says Roy Kasten in this week's paper:
[The Treeweasels] sounded like a punky, countrified R.E.M. with some Pere Ubu singles melted over their four-track, though they couldn't really be bothered to be oblique. Singer E.J. Fitch never met an ironic sneer he couldn't twist into a good-natured hook, guitarist Scott Roever burned every cease-and-desist order from Roger McGuinn and Mick Ronson, and drummer Danny Kathriner (currently leading the Half Knots) gave the goofy post-punk amateurism steady country-rock grooves.
Opening will be the Half Knots and Magnolia Summer -- who will have a lap-steel and fiddle player for this show. After the jump, check out a Treeweasels video -- but below, snag a few high-quality MP3s from the group's Head Cheese and Blood Sausage cassette, courtesy of Treeweasel Scott Roever. Or you can snag the entire cassette in slightly lower quality by clicking here.
MP3: Treeweasels, "Cornerstone" MP3: Treeweasels, "Walk Away"
-- Annie Zaleski