Venue: The Middle East Upstairs Location: Cambridge, Massachusetts Date: 06.16.08 Other Bands: Seymore Saves The World, Hospital Bombers, Daniel Oulette
We rolled out of bed early to eat some breakfast and say goodbye to our lovely hostess, the Tomkos' Aunt Donna (Uncle Chris had already headed off to work for the day). As she issued parting hugs to all of us, she also inadvertently issued a new nickname to Eric H., telling him ''I'm going to miss you most of all, Tin Man.'' Classic. We loaded the bag of snacks and cooler of drinks Donna had packed us into the van (oh, yes she did) and hit the road for Boston.
Music in the van: Queen, Ben Folds, Lewis Black, Chris Rock, Beck, Bruce Springsteen, Headlights, Mates of State, U2.
The drive seemed short, and before we knew it, we were passing through Boston and Cambridge, ending up at the venue, the Middle East. We sent Mike inside to figure out which door we were supposed to load in, since the Middle East has two venues: the main stage; and the Middle East Upstairs, where we were playing. Once our entryway was determined, we loaded in, met the uber-cool soundguy, Jeff, and then headed to the restaurant part of the venue, where we were each given $10 food vouchers to spend on the Mediterranean cuisine. We love when a venue feeds us, but we love it even more when the food is good, and this food was pretty dang good. It also helps that Mediterranean cuisine seems to appeal to the majority of the band – not many things do.
The show starts with opener Daniel Oulette, who displays an operatic baritone voice that carries over his goth-techno beats, played from his laptop. The stage lights were turned down, so as not to wash out the goth-scrapbook imagery being projected behind him.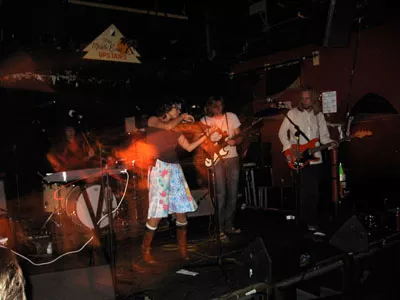 Next up was Hospital Bombers, a Dutch group sporting a retro pop sound that landed somewhere between Shout Out Louds and Tom Petty.
This was also the first of two nights we would be sharing the stage with Seymore Saves The World, an engaging and witty pop trio from Minneapolis, who on this night were a man down. Their bassist Shawn was in LA with his other band, Cloud Cult, for a Carson Daly show taping. Being the brave boys they are, Scott and Nate took a stab at performing as a duo (keys and drums) and didn't miss a beat. The attendance at the show was sparse, and a few of the attending kids had left after Hospital Bombers finished, but everyone that was in the room seemed to really enjoy the SSTW set, which brought to mind offhand touchstones of Aqueduct and Ben Folds, with maybe a light dusting of DCFC…. maybe.
We didn't know anyone in Boston, and none of the performers were local, so we decided to do an all-night shift-drive to Philadelphia. This is one of the nice advantages of having a seven-person band, since you can have two people awake, go in two-hour shifts, and still have everyone get some sleep. So, we hit the road, on our way to Philly – our third time in entering the state of Pennsylvania on this trip.