(On a recent U.S. tour, I asked Gentleman Auction House's Steve Kozel to keep a daily diary of the band's goings-on. All this week, we'll be posting what happened, leading up to the band's CD release show for Alphabet Graveyard on Saturday night at the Bluebird. -- Annie Zaleski)
Venue: Private Birthday Bash Location: St. Louis Date: 06.07.08 Other Bands: Fattback
We started the day by getting some Mexican breakfast (huevos rancheros!) and then heading back to the Beat Kitchen to pick up an equipment case that we left there the night before (I won't name names – he/she knows what he/she did). The cottonwood seeds were blowing all over, which made it seem like it was snowing in Chicago on a bright summer day – very surreal.
We hit the road to head back to St. Louis, of all places. A friend of the band was having a big birthday bash and asked us to play ($$$), and since we were only going to be in Chicago the night before, and in St. Louis the next night anyway (I'll get to that tomorrow), it worked out very nicely.
Music in the van: MGMT, Phantom Planet, The Pipettes, Soul Coughing, Rogue Wave, Ryan Lindsey
Topics of discussion: Why Culver's butterburgers are really bad for you but taste good because of our primeval urge to consume and store fat; Ryan [Adams, drummer]'s propensity to explain why a joke was funny after he tells it – otherwise known as "reliving the joke."
Speaking of jokes, here's a Kiley original:
Q: Where do FBI undercover agents who are working on a case involving crimes against soda, go to eat chicken? A: Popspies
(Feel free to boo. I do. That kinda sums up the drive up to that point.) But then...
About an hour outside of St. Louis, we blew out one of the tires on our trailer (which we had recently obtained from Jumbling Towers, who just released a great EP that you should definitely check out and not just 'case its FREE, but it is FREE).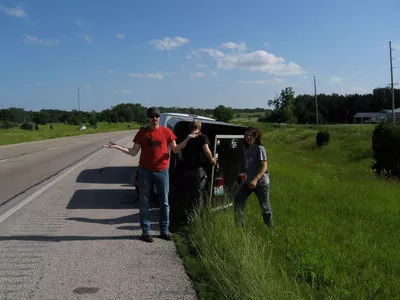 This presented a problem, since 13" trailer tires are not the most common things, especially the size we have. Luckily, we managed to pull over right next to a strawberry field, so we decided to call the whole thing off and sing that Beatles song while eating strawberries until we couldn't move. Jk, jk, jkroflomgstfu.
We did, however, talk to the nicest people in the world that owned the field, and after they gave us the phone numbers of every tire place within a 30-mile radius off the top of their heads (wow), we determined we weren't going to have much luck. So, they called a friend in town who promptly rolled up with a slightly smaller tire that would at least get us home. He tossed it on the ground in front of us, turned it over to look at it. "Twenty bucks." Done. I think it goes without saying that these four get the MVP Of The Day award.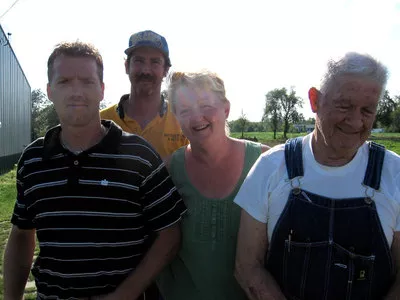 We then drove the van down the road to the Gas & Tire stop to get the tire fitted on our wheel, which took less time than it did for Ryan & the Erics to finish their $1.25 beers at the bar next door. Another $20 and we were back on the road.
We made it to the house just in time to set up the PA for Fattback, who we were sharing the stage with that night. As soon as everything got patched in, they ripped into their genre-shuffling set, including a cover of the Talking Head's "Psycho Killer," which made me happy. I think that's why they played it, actually.
The cake came out, the candles were blown out, and we took the stage. The age of the party guests ranged from young to old, but the bulk of the attendees were in their third or fourth decade.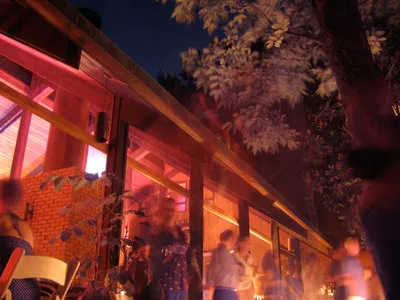 To their credit (and I don't know how much of this I could, or should, attribute to the open bar), they danced more – and more creatively – than any audience we've had in recent memory. It got sweaty real quick. We played an exhaustingly long set that somehow seemed to fly by, and capped it off with former set-closer "If I'm The First To Go" (which will be on Alphabet Graveyard, for those who care).
The night drew to a close and we packed it in after what seemed like a ridiculously long day.