(On a recent U.S. tour, I asked Gentleman Auction House's Steve Kozel to keep a daily diary of the band's goings-on. All this week, we'll be posting what happened, leading up to the band's CD release show for Alphabet Graveyard on Saturday night at the Bluebird. -- Annie Zaleski)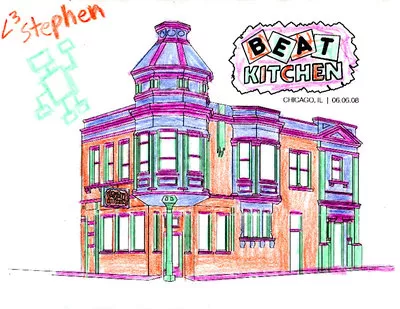 Venue: The Beat Kitchen Location: Chicago, IL Date: 06.06.08 Other Bands: Sleep Out, Weinland
We don't make very good time in our current traveling arrangement of a twelve-pass van with a trailer, illustrated by our six-hour trip to Chicago. I could swear I've made that drive in four-and-a-half hours before. Gas mileage isn't great either, which is great because gas prices keep going down every day (I know, right?) Anyone want to refit our van to run off of some sort of alternative fuel? For free? Christmas is coming up, so…
Music in the van: Constantines, Tally Hall, Mika, Cloud Cult, Missy Elliott, M.I.A., Someone Still Loves You Boris Yeltsin
Topics of discussion: How to most efficiently pack our road cases and gear into our trailer; How a clairvoyant can never really claim to not know whether they're going to attend a given event; "_________er!? I just met her!"
Here's a Chicago billboard promoting the motion picture event of the summer, Wall-E. It's going to be so good. It's like Pixar meets Short Circuit, how can you go wrong?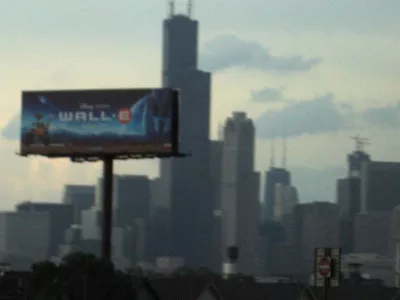 We got to The Beat Kitchen in Chicago in time to load right in and put in a food order (being fed is always nice). A quick set-up and soundcheck later, and our food was ready. I think at least three of us enjoyed a Southwestern Chicken Sandwich (with and without bacon) while we ate outside in the balmy early evening. A pleasant surprise showed up in the form of Eric H.'s friend Liz, who we had met at our last show in Chi-town at Subterranean. She's now officially a friend to all of us after buying a round of drinks to wash down our food. This act of generosity awarded her the MVP award for the day. Congratulations, Liz.

We opened our set to a handful of attendees, and finished to a nearly full room. People were filing in for Sleep Out's release show for their CD Dust…, but before they took the stage, Portland's Weinland treated us to some engagingly smooth (or smoothly engaging?) folk-pop, complete with a keyboard player that had performance moments reminiscent of some kind of mad scientist. They were also selling coffee at the merch table, which is pretty rad. They head to Rock Island, Illinois tomorrow to record a Daytrotter session, which we did back in April and should be seeing up on the site pretty soon, so stay tuned for that.
We nestled our sticker next to that of our labelmates Bald Eagle. Pleeease do yourself a favaor and check out their record Hot Shoulders. It was the only CD I had in my car for an entire week and that may have been the best week of my life.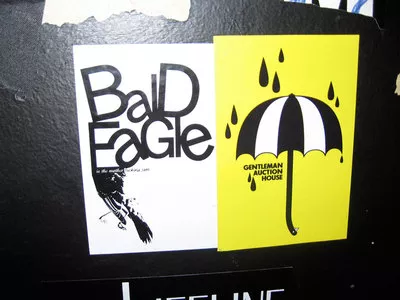 Sleep Out took the stage amidst half-sized plush toy leopards and plastic owls. After a bit of bass feedback they mentioned that they had a whale onstage as well. I didn't see one, but whatever, it was probably hidden. After the show we piled our gear in the trailer and headed to our friend Alicia's apartment, where our van/trailer took up two meters on the street. That's okay though, since a quarter in a Chicago meter will buy you an hour of parking time. Way better than the 20-25 minutes you get in St. Louis – pssssh.
A few of us tried to hit up a place called Sopo's for $5 mojitos and martinis, but alas, we arrived after last call. So, we decided to call it a night and head back to the apartment. Probably for the best. Alicia's dog Chiquita thought so, too.