#remunited
(Photos and review by Annie Zaleski; entire Flickr set here.)
My car battery conked out at milemarker 187 (that's Chenoa, Illinois, for those of you scoring along at home) on I-55 north yesterday afternoon. Thankfully, I was in the parking lot of a Route 66 gas station (and more specifically, its ApolloMart), so it wasn't too much trouble for AAA to brave torrential winds and jump it. George of Pop Pop's Star Repair – who I highly recommend you call if you're stuck about 100 miles outside of Chicago -- suggested I drive ten miles to a Wal-Mart and replace my battery. Two-ish hours later, I was back on the road.
Despite all of this car drama, the thought never occurred to me to come back to St. Louis. I mean, sure, I figured that if my electrical system was fried then I was fucked, but I somehow rationally knew that it was my battery and everything was going to be fine and I had to press on. After all, I was going to be inconsolable if I missed R.E.M., Modest Mouse and the National in Chicago.
As it turned out, I missed most of the National's set and much of Modest Mouse's set. (Ah, well.) But my seven-and-a-half-hour trek was completely justified when R.E.M. took the stage at around 9:30 p.m. The band stormed out with Accelerate's corrugated-electric first track, "Living Well's the Best Revenge," and then reversed the order of Life's Rich Pageant's knockout beginning, with raucous readings of "These Days" and "Begin the Begin." The crowd-pleasing modern-rock staple "What's the Frequency, Kenneth?" and a rare airing of Murmur's hypnotic-folk "Pilgrimage" followed.
As this five-song opening showed, the pacing of the setlist was superb. The two-hour show contained songs of extreme loudness (uptempo numbers from the new album Accelerate like "Horse to Water" and "I'm Gonna DJ") and quiet introspection (a gorgeous rendition of "Find the River," the California piano snapshot "Electrolite"), but the energy never flagged.
Vocalist Michael Stipe scurried across the stage constantly, although his funniest move involved stiffly lurching his legs forward one-by-one, as if a zombie looking for brains. The instrumentalists -- scissor-kicking guitarist Peter Buck and golden-voiced bassist Mike Mills, along with long-time auxiliary keyboardist/guitarist Scott McCaughey and drummer Bill Rieflin – were reliable as always. A Chicago staple due to his long tenure in Ministry, Rieflin especially killed on the martial drumming of "Orange Crush," while keeping Automatic for the People's "Ignoreland" (which R.E.M. is playing for the first time ever on this tour) menacing and slow-boiling.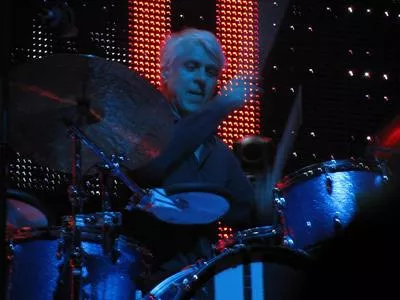 (Bill Rieflin)
In fact, the ever-solidifying chemistry between the core members of R.E.M. and their touring collaborators became evident as the night wore on. All five musicians gathered around the piano like a family singing Christmas carols to perform the elegy "Let Me In." On Monster, the grief in the song is cloaked with fuzz, feedback and distortion; but last night, Stipe unleashed some gospel-choir improvisation that matched the stripped-down, acoustic-driven version. During the encore, Stipe announced "Change of plans!" – which worked in our favor, as the band launched into the summery Reckoning highlight "Pretty Persuasion." Johnny Marr (ex-Smiths, now Modest Mouse) joined the band for "Fall On Me," adding just a touch more chime.
Instances of such looseness cropped up during the entire set. Stipe forgot the words to "Man-Sized Wreath" and false-started the beginning of "Bad Day" (although "The Great Beyond" went so well that there was a reprise of the ending). He was good-natured about his screw-ups, though: At the end of the night, after introducing each band member by name, he referred to himself as "the guy who fucked up the beginning of three songs." (Bassist Mike Mills concurred, with a pointed nod of his bass in Stipe's direction.)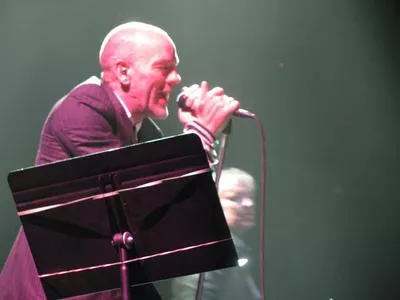 Stipe also saved the encore for an expected political note: the ceremonial reveal of an "Obama for President" button, which caused deafening cheers. "I am so fucking glad you gave us Barack Obama," Stipe said.
Like I said in March, R.E.M. is looser and happier than I've ever seen them live. What struck me most last night is that they're still the most human band I've seen play an arena. By nature of the size and scope of their production, arena shows can feel impersonal and scripted. But R.E.M. make mistakes, change up the setlist, play sloppily, babble banter and joke with each other -- making their shows feel like small club gigs. That's a clichéd thing to say, but it's the truth. In fact, it's exactly what I drove seven-and-a-half hours to see – not perfection, but warts-and-all rock & roll from my favorite band.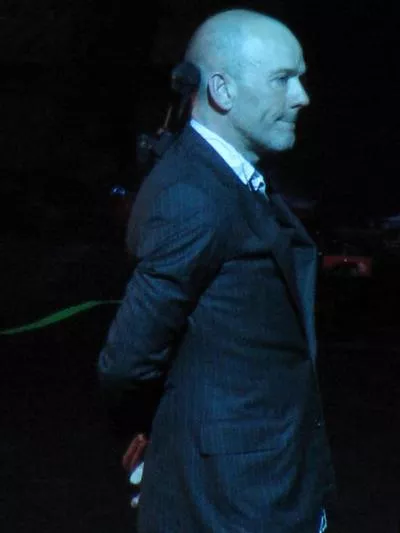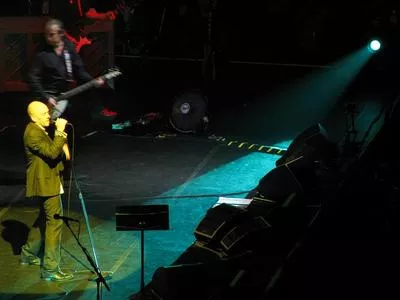 Setlist: 1. Living Well's the Best Revenge 2. These Days 3. Begin The Begin 4. What's the Frequency, Kenneth? 5. Pilgrimage 6. Hollow Man 6. Animal 8. Man-Sized Wreath 9. Ignoreland 10. The Great Beyond 11. Accelerate 12. Houston 13. Electrolite 14. The One I Love 15. Final Straw 16. Find The River 17. Let Me In 18. Walk Unafraid 19. Orange Crush 20. Horse to Water 21. Bad Day 22. I'm Gonna DJ
Encore: 23. Supernatural Superserious 24. Pretty Persuasion 25. Losing My Religion 26. Fall On Me (w/ Johnny Marr) 27. Man On The Moon