Target Market www.myspace.com/targetmarket Since releasing 2006's No Thrills, Target Market has gone through quite the metamorphosis in terms of lineup and musical direction. Recent live performances have found the band leaving behind most of its spastic post-rock in favor of a more hook-driven indie-pop sound that draws more from the simple genius of Lou Reed than complex Midwest mathiness. But danceable grooves, deceptively complex drum patterns and inventive melodies still serve the band well and should fuel its upcoming album, which is expected later this year. -- Shae Moseley Cicero's, 7 p.m.
MP3: Target Market, "The Beat Plays On"
(Bunnygrunt)
Bunnygrunt www.myspace.com/therealbunnygrunt By day, Matt Harnish slings records behind the counter at Vintage Vinyl. But by night, he and his merry cast of 'Grunt workers (long-time foils Karen Ried and Eric Von Damage and – sometimes, if we're lucky -- scene staples Jason Hutto and Mario Viele) unleash foaming-at-the-mouth twee-punk that will tickle your pop fancy – while inducing more awkward dance moves this side of a junior high mixer. -- Annie Zaleski Delmar Lounge, midnight
MP3: Bunnygrunt, "1000% Not Creepy"
The Hibernauts www.myspace.com/thehibernauts With an eye on classic pop forms and an ear for of-the-moment trends, the Hibernauts craft melodic, instantly catchy rock & roll that is both familiar and innovative. The band's debut EP Periodic Fable offers a satisfying sample of the quartet's abilities; its mix of space rock, Britpop and post-punk reveals a band that enjoys testing the limits of the three-minute pop song. Jack Stevens and Tom McArthur let their guitars play off of one another, and the tension-and-release dynamic often leads to a euphoric lift-off. -- Christian Schaeffer Cicero's, 10 p.m.
MP3: The Hibernauts, "Scissors"
(The Hibernauts)
Say Panther www.myspace.com/saypanther *sniff* Oh, these wee indie bands grow up so fast! After recording its debut album with So Many Dynamos guitarist Ryan Wasoba, the Say Panther kids started exuding very-adult musical confidence onstage. Thankfully, even as this self-assurance made the collective's trumpet-peppered tunes feel mature – think New Order, Architecture in Helsinki and De Novo Dahl – the collective lost none of its charming innocence. -- Annie Zaleski Cicero's, 6 p.m.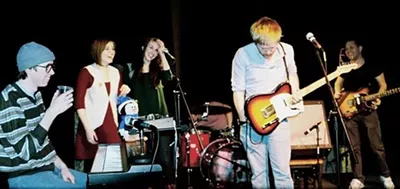 (Say Panther)
So Many Dynamos www.myspace.com/somanydynamos The members of So Many Dynamos are showing no signs of scaling back their tireless work ethic. After touring all over the country (again) last year, the quartet recorded most of its third full-length album at John Vanderslice's Tiny Telephone Studios in San Francisco with Death Cab for Cutie's Chris Walla at the controls. With record labels already showing interest in the results, it seems the band is poised to make its biggest waves yet this year -- which isn't surprising to anyone who's seen the band's brain-bending, super-energetic live show. When the taste-making hype machine does finally come knocking for the Dynamos, we here in St. Louis will simply say, "What took you so long?" -- Shae Moseley Main Stage, 4 p.m.
Jumbling Towers www.myspace.com/jumblingtowers Last year's self-titled debut introduced the Jumbling Towers as a band with a focused sound and an audible intensity. Joe DeBoer's vocals owe an equal debt to Syd Barrett and Destroyer's Dan Bejar, and his command of the Fender Rhodes electric piano gives a soulful heft to the squall-like guitar parts and boundary-setting bass. A new EP is due any day now, although the quartet will have to work hard to match the energy and vision of its first outing. -- Christian Schaeffer Cicero's, 8 p.m.
MP3: Jumbling Towers, "Apartments"