(Thanks to all bands for permission to post music!)
(Bottle Rockets)
The Bottle Rockets www.bottlerocketsmusic.com The Bottle Rockets should have exploded ages ago. In the mid '90s, the band had a single, "Radar Gun," which found commercial airplay, while the majorest of major labels, Atlantic, backed one of the greatest rock albums to come out of St. Louis, 24 Hours a Day. But that momentum fizzled, and the BoRox were left with the only things that mattered: its songs and its talent. Pushing into their second decade together, they keep building on that foundation. Steady bassist and harmony singer Keith Voegele, guitar wizard John Horton, and founders Brian Henneman and Mark Ortmann continue to explore just how much soul can be drawn from the rock and country well. The band is living proof that the well really is bottomless. -- Roy Kasten
MP3: Bottle Rockets, "Mountain to Climb"
Bad Folk www.myspace.com/badfolk Earlier this year, filmmaker Zlatko Cosic premiered Bad Folk Story, a documentary he shot about the venerable macabre-twang outfit. But you won't find a group less likely to be movie stars than Bad Folk – even if Story's stark, black-and-white images accurately captured the band's gritty tunes. Unassuming and understated, the group lets mournful banjo, whinging pedal steel – and as of late in concert, mincing violin from Rats and People's Brien Seyle – help its tales about the desolate open road, unsavory characters and late-night country heartbreak come alive in vibrant shades of greyscale. -- Annie Zaleski Pi, 10 p.m.
MP3: Bad Folk, "Haystack"
Magnolia Summer www.myspace.com/magnoliasummer Magnolia Summer live shows now happen with the scarcity of a comet streaking through the sky -- but that just makes them more of a must-see event, especially since you never know how many people will join vocalist/guitarist Chris Grabau onstage. (Past collaborators include the Bottle Rockets' John Horton and Grace Basement's Kevin Buckley.) Upcoming recordings showcase Buckley's always-lively fiddle, a majestic touch that matches Magnolia Summer's ruminations on life's weightier matters. -- Annie Zaleski Pi, 8 p.m.
MP3: Magnolia Summer, "Director"
(photo by Tammy Leahy)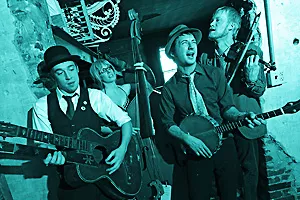 The Monads www.myspace.com/themonads Wickedly comic and seriously demented, the Monads' take on bluegrass punk combines the sweetest harmonies with the wackest lyrics, whether spelling out every letter in "Mississippi Wine" or discovering common humanity in the universal corpse swinging from a gallows. None of this would get the quartet very far, if it didn't have a very hot fiddler in Matt Shivelbine or Jason Matthews' land-speed-record-breaking banjo. How much the Monads love old time string band music is evident from how much fun it has playing it. The band may be irreverent punks, but its celebratory spirit is country gold. -- Roy Kasten
MP3: The Monads, "Spit Fire"
Rats & People www.myspace.com/ratsandpeople Rats and People is an unorthodox band founded by former members of the Whole Sick Crew and the Baysayboos. This unlikely ensemble plays post-punk folk songs on a wide variety of instruments – so many that it resembles a small orchestra: trumpet, violin and accordion all get time here. Even with all of these interesting elements, the Rats & People focus is on storytelling. Each song weaves a separate tale, its stories told from a different point of view. -- Jaime Lees
MP3: Rats & People, "Mines and Pantries"