(Thanks to all bands for permission to post music!)
Caleb Travers & Big City Lights www.myspace.com/calebtravers With a slow, lonesome strum and slight baritone rasp reminiscent of Beck's work on the breakup masterpiece Sea Change, Caleb Travers brings perspective to heartbreak and paints spot-on images of a relationship's forlorn demise. But the stories told on 2007's Blue Weathered Dreams aren't the foggy, beer-soaked laments of an idealized, wayward wanderer. Instead Travers' songs capture the emotion of everyday life without melodrama or pretense -- whether it be through vivid descriptions of family dealings, romantic entanglements or personal struggles. – Shae Moseley
MP3: Caleb Travers & Big City Lights, "Enough"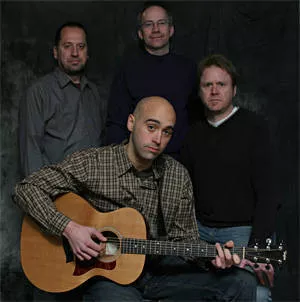 (The Linemen)
The Linemen www.myspace.com/thelinemen If the Linemen sound like a traditional country band, that's just the instrumental and vocal mastery talking. Kevin Butterfield's rich, smooth high tenor, with its echoes of Don Williams and Gene Watson, modulates through a world of hurt. No jokes, no novelties and no gimmicks -- just pure feeling. Around him, Scott Swartz swirls pedal steel and Telecaster sparkles, and the veteran rhythm section of John Baldus and Greg Lamb take aim, straight and true, on the shuffles and waltzes, but then veer into rock and pop terrain, with the songs their only compass. Together, the Linemen are open to all the music that's influenced country over the years -- soul, rock and folk -- and they fuse it all in a way that ultimately defies tradition. – Roy Kasten
MP3: The Linemen, "Five Years Later"
Rough Shop www.myspace.com/roughshop For the three core members of Rough Shop, the term "folk" takes on an all-encompassing definition. John Wendland, Andy Ploof and Anne Tkach add varying elements of blues, jazz, bluegrass and early rock & roll to the pot, showcasing the depth of the members' musical roots and the limitless possibility of acoustic music. The trio released Here Today earlier this year, and the album highlights each member's talents while maintaining the tightness and bonhomie of a band. – Christian Schaeffer
MP3: Rough Shop, "Clean Slate"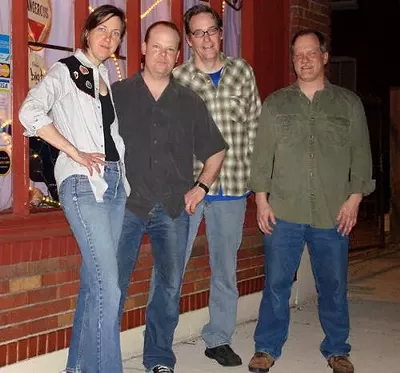 (Rough Shop)
Rum Drum Ramblers www.myspace.com/rumdrumramblers It's nearly disturbing to witness the little white boys in the Rum Drum Ramblers do the blues so well. Harmonica, upright bass, one drum and a loose-strung guitar are all this trio needs to throw down a toe-tapping set. DIY improvisation and authenticity are the main elements of the Ramblers' appeal, though. No instrument is safe from being used as percussion -- it feels as though every object in sight is unmercifully slapped with the beat – and the group is just as likely to be seen busking on a street corner as it is playing a proper show. – Jaime Lees
Theodore www.myspace.com/theodoreacoustic Theodore plays ragged, unhinged songs that pierce you right in your junk-store heart. Traditional rock & roll instruments alongside a few oddball addendums like accordions and trombones brighten the corners on its first full-length, Songs for the Weary. Singer Justin Kinkel-Schuster writes loaded, potent songs that highlight his expressive voice, which can go from hush to howl at the pluck of a banjo. His bandmates help actualize his story-songs with deft gentleness and barely-contained fervor, while the band's live outings are a tempest-tossed mix of roots music and experimental rock & roll. -- Christian Schaeffer Vintage Vinyl, 9 p.m.
MP3: Theodore, "Between the Rows"