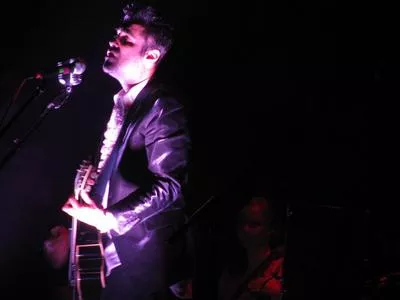 (Nick Urata of DeVotchKa)
(Tom Hagerman of DeVotchKa)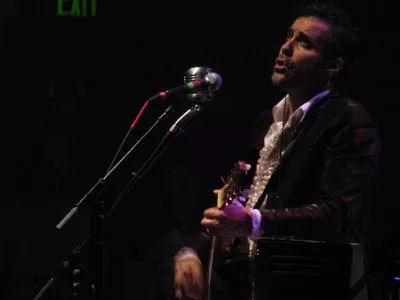 (Urata)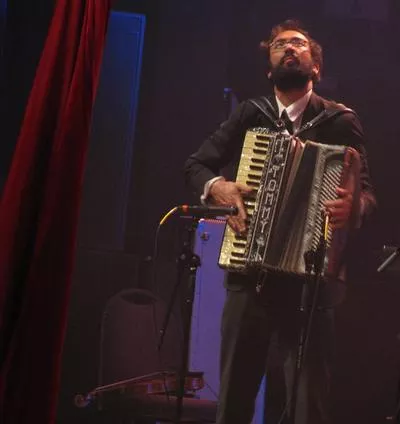 (Hagerman) I'm way too tired and out of words to describe DeVotchKa's Friday night show at the Pageant with Basia Bulat and Bad Folk -- at least in any extensive way. But all three bands were extremely impressive. Stop by this here blog tomorrow for a cool bonus from the show.
Locals Bad Folk again mystified me -- and by that, I mean: Why isn't this band hugely popular in the entire country? Banjo, accordion and pedal steel, plus Tim Rakel's dry, fervent vocal delivery and distinctive, unique songs and insane energy; think Damien Jurado and Okkervil River. They're playing at Mangia on Saturday, May 24 -- go, and you won't be disappointed.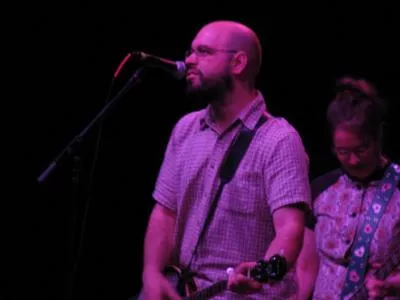 (Tim Rakel)
Basia Bulat seemed stoked to be playing her music; the blonde, cowboy boot-sporting Canadian exuded bubbliness as she played tunes from Oh, My Darling. (Her MySpace headline is "More Fun Than Your Very Own Pony!"; fitting.) A Daniel Johnston cover, her atmospheric harp, a gentle string section and plenty of harmonies -- like prairie-fed art-folk -- had people dancing up a storm. Aside: Her voice often reminded me of Shakira's vocal yodels -- in a good way.
(Bulat)
Equally happy were the members of DeVotchKa; I kept snapping photos of them all grinning clandestinely onstage. The band's set matched this joyous feeling; I was almost wholly unfamiliar with its catalog going into the show, and the group blew me away with its otherwordly mix of gypsy folk-punk, Mariachi madness, orchestral indie-rock and general exuberance. Incorporating Bulat's string section made the band's tunes swell and blossom; I often felt like I was at the symphony or in the movie Amelie.
Urata -- looking like a cross between Jake Gyllenhaal and Morrissey -- channeled Jeff Buckley and a crooning Spanish troubadour. The group covered Siouxsie and the Banshees' "The Last Beat of my Heart" -- remember this tomorrow -- and employed a burlesque/acrobat dancer to contort herself from a billowing red curtain suspended from the ceiling for the encore. Tunes from the new A Mad and Faithful Telling were as bewitching and often-spooky live as on disc; "Transliterator" especially stood out for its beauty.
And ladies, Jeanie Schroder played the sousaphone. While wearing heels. Mad props.