(Photos and review by Annie Zaleski. VIEW OUR SLIDESHOW OF PHOTOS HERE.)
(This is probably my favorite shot I took.)
How do you sum up a show that's one of the best you've ever seen -- in your life? It's almost 4 a.m. and I've been working on my show photos since I got home, and I'm still at a loss for words to describe the Radiohead show at Riverport, UMB Bank Pavilion, the Verizon Wireless Amphitheater.
Here are the facts: The band played all of In Rainbows, its latest album. Kid A was also well-represented, with a manic, squelching version of "Idioteque," a lullaby twitch of "Kid A" and the robotic paranoia "Everything In Its Right Place." Bends hit "My Iron Lung" was played for the first time this tour; that album's "Fake Plastic Trees," and OK Computer tunes "Airbag," "Exit Music (For a Film)" and "Paranoid Android" were the only older songs performed.
The stage setup -- a series of light rods arranged from the ceiling, honeycomb-shaped spotlights and tasteful video screens projecting grainy footage of the band in the back -- was one of the most amazing I've ever seen. Multiple colors cascaded down or traveled up the devices, feeding off of the music -- or driving its direction. During many songs, it felt like a Radiohead Rave, the lights, beats and music reverberated so intensely.
Yorke's dry (and often overlooked) humor was on display quite a bit. During the Bowie-glam crunch of "Bangers + Mash" -- which found him sitting down in front of a mini-drumkit while singing -- he stood up during a break and ran around his lone drum, Chinese fire-drill-style, as if in a solitary game of Duck, Duck, Goose. For "You and Whose Army?" he peered into a fisheye-lens camera (something the band's been doing for years) that projected his face onto the giant screen onstage; knowing that his mug was the focal point, he made funny faces and wiggled his eyebrows knowingly, like a goofball. And during the start of the show, he talked about smelling the funnel cakes being sold, which somehow spiraled into confessing a love for donuts.
Yorke's dance moves must also get a special mention. During "Everything In Its Right Place," he did a quasi, stiff-limbed Robot, which then morphed into what looked like a hip-hop robot mimicking swim moves. The electronic thunderhead, beat-stampede "Myxomatosis" found him dancing like an antsy boxer, and punching the air in time to the lyrics. During "The Gloaming," he high-stepped as if an old-west enemy was shooting bullets at his feet. At other times, it seemed like his feet moved the rest of him away from the mic stand against his will; his arms -- all elbows -- and legs flailed with liquid ease. Even when holding a guitar, he shook his head back and forth with rabid concentration and hyperactive glee.
Yorke's dance moves during "Idioteque" in St. Louis, already posted on YouTube. Hello, Running Man!
Jonny Greenwood -- wearing a shirt that said, "Yes, It's Real" and rocking hair ca. Brett Anderson of Suede's 1993 look -- merrily twisted knobs and manipulated sounds on stage left, when he wasn't attacking a guitar. His bassist brother Colin hung out near drummer Phil Selway, while other guitarist Ed O'Brien rocked a scarf and held down stage right. While a talented guitarist in his own right, the harmonies he and Yorke combined to hit were absolutely gorgeous. O'Brien's rousing concert toms (in tandem with Jonny Greenwood) on "There There" pounded like a thumping heartbeat wild with fear.
So why on Earth was this show so transcendent?
I'm still having trouble putting this into words, hours after it's ended. There was something deeply romantic in the air at the show (and no, I'm not talking about the insane amount of weed being smoked in the crowd). The muted drum-n-bass/acoustic strum friction of "Weird Fishes/Arpeggi" was as placid as a dip underneath aquamarine oceans; the solitude and loneliness of the tune was deeply moving. Yorke's crystalline croon echoed the studio versions of songs nearly perfectly, especially on standouts "Reckoner" (a clattering electro-hymn), a devastatingly beautiful "Fake Plastic Trees" and the reverbed-folk heart-stab "House of Cards." But this falsetto hinted at sweet sadness, knowing seduction, gentle romance, mysterious love and fluttering caresses -- all of the hushed secrets shared between lovers.
Yet this atmosphere wasn't jarred or disturbed by Radiohead's jagged rock moments ("Bodysnatchers") or its floating alienation ballads ("Airbag") or the many instances of electronic mayhem ("Idioteque" was an absolute standout, its ice-scraper rhythms and sunrise synths colliding in wild bouts of dancing and tempo-shifting). The set's final song, "Paranoid Android," in fact, might have been the best song of the night. A slow-building shift between frenzied guitar slashes and straightforward sloganeering, the 1997 hit ended in Technicolor neon-bursts of light that made the band silhouettes. The meaning of the song remains as cryptic and ambiguous as it did a decade ago, but its message didn't sound the least bit dated.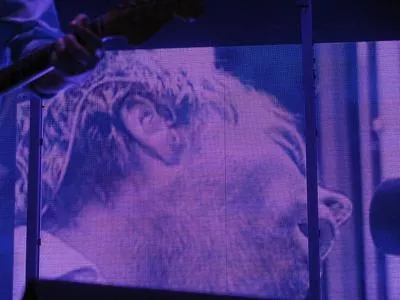 On paper, Radiohead's ability to mash together rock, electronica, punk, noise and even bits of hip-hop -- and the chemistry between band members that makes its live shows so fantastic -- keeps it interesting. Abstractly, though, the vulnerability the band conveys adds to its mystique; for me there's an underlying, irresistible attraction to this aspect of the band. Radiohead is brilliant at stripping down its music right to the emotional core -- and that purity of intent (and genuine execution) rang true last night.
(EDIT, Thursday afternoon: My colleague at the Pitch, Jason Harper, also wrote an excellent review. Go check it out here.)
Setlist: (culled from my scribblings and a bit of help from ateaseweb.com) 01. All I Need 02. Jigsaw Falling Into Place 03. Airbag 04. 15 Step 05. Nude 06. Kid A 07. Weird Fishes/Arpeggi 08. The Gloaming 09. You And Whose Army? 10. Idioteque 11. Faust Arp 12. Videotape 13. Everything In Its Right Place 14. Reckoner 15. Optimistic 16. Bangers and Mash 17. Bodysnatchers
Encore One: 18. Exit Music (For A Film) 19. Myxomatosis 20. My Iron Lung 21. There There 22. Fake Plastic Trees
Encore Two: 23. Pyramid Song 24. House of Cards 25. Paranoid Android