Jeffree Star rules in the Internet – or at least MySpace – or so he would have you think. The cross-dressing singer who wails over an electro backing band certainly ruled the Creepy Crawl last night.
Playing to a doting audience of about 200 – mostly in their late teens and early twenties – Star, a pink weave-wearing, hyper-sexed singer was all L.A. bitch glamor. At times, it would make most people cringe; the singer's apparent disdain for the glamor of Hollywood, and then with the next strut on the Creepy Crawl's small catwalk stage, totally biting that style.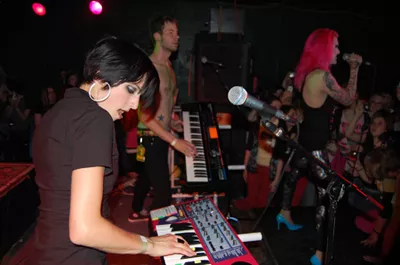 Slide Show
Still, most seemed to eat it up. Case in point: The last song, a number called ''We Want Cunt,'' had the audience shouting it in unison before the first notes were hit on the keyboard by Lauren Deadly, who is one-half of the backing band, Electric Valentine.
Star, who strutted in time and posed for the audience – with dozens, and I mean dozens, of cell phone cameras in tow – sang delightfully corny lyrics right back at an audience who was singing along with him/her.
''Enter my construction zone / Make me moan / Danger prone / Danger prone.''
The set felt like seeing New Order if they were on speed. And that's the point, as Star leverages his Hollywood glamor with a ''fuck you'' attitude that is more often associated with the punk band who made the other half of the tour.
Slide Show
The Pink Spiders
, out of Nashville, pounded through their set of power pop numbers, backed by a Moog and keyboard. The live version of the Spiders is not that far removed from the image conveyed in their press photos. Cigarette smoking, beer swilling rocker dudes, who appear as if they will be forever rocking hard on stages in medium-sized clubs across the country. Big ups to bass player Jon Decious' Rod Stewart haircut.
The guy pulled the look off
.
The band (a five-piece for this tour) played songs from Teenage Grafitti and their upcoming release, Sweat It Out. Side note: the band appeared on Tuesday on the Fox reality show about cooking, Hell's Kitchen.
Here's the set list from the Spiders' set: Sleeping on the Floor Soft Smoke Teenage Graffiti Modern Swinger Little Razorblade Busy Signals Hollywood Fix 17 Candles Gimmie Chemicals Adalae Easy WAy Out Typical Danger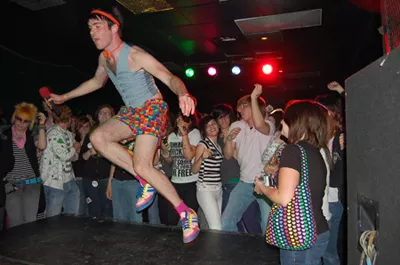 Slide Show
Super Fun Yeah Yeah Rocketship
, a one-person act by Edwardsville's Corey Goodman, gyrated before the Spiders took the stage. High energy, electronic dance music. Goodman begs his audience not to take him seriously with songs like ''I like Marvel, You Like D.C.,'' a reference to a broken-up love affair because of opposite affections for two rival
comic book
companies.
With an orange bow tie and matching headband, a silver-colored vest that was so tight the fabric around the buttons stretched, rainbow shorts and matching shoes, Goodman held court over the audience, who if not as animated as the one during Star, were no less enthralled.
Goodman's on-stage persona is that of a angst-filled teenager talking to his parents. Only he's talking to the audience. At one point, he dedicated his song ''Douchebag'' to the audience, who of course ate it up.
"I'm actually really shy (off-stage)," Goodman says somewhat proudly. "I try to be a dick and really full of myself (on-stage)."
Somehow sarcastic on-stage potshots at the audience make me long for the endearing and nerdy quality possessed by Atom and his Package.
That's to say that the music which fuels Super Fun Yeah Yeah Rocketship is undeniably hypnotic with its Postal Service-style drones, punctuated by electro squealing.
Opening up the show was – wait for it – a 17-year-old rapper with braces from Defiance, Mo. named Less. Given his courage to stand in front of about 100 of his peers and shout out the lyrics to ''Can't Tell Me Nothing'' by Kanye West, karaoke style, the young buck deserves some props.