(Photos and review by Annie Zaleski; entire Flickr set here)
Tegan and Sara haven't performed in St. Louis in years -- a fact Tegan mentioned in our interview outtakes and Sara reinforced at the pair's sold-out Pageant show on Sunday night. However, the charming onstage motormouth (at this show, that was mainly the jean jacket-sporting Sara) came to the conclusion that St. Louis "wasn't as dangerous" as she thought.
Tegan Quin:
Tegan and Sara Slide Show from Sunday, May 4, 2008 at The Pageant
Sara Quin: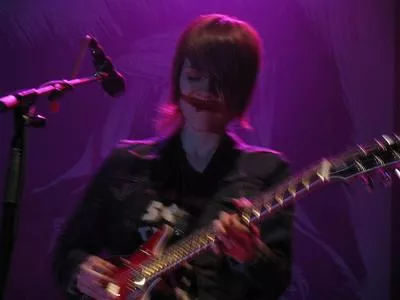 Such banter (and a wholly impressive live show) ensured that the Canadian duo's arrival back to town was certainly worth the wait. The sisters began the set strong, with the So Jealous cut "I Know, I Know, I Know," the title track from its latest album, The Con and then another Jealous fave, "Walking With a Ghost."
The pair switched between acoustic and electric guitars (with an occasional turn at the piano) throughout the night. Still, highlights such as the fuzzy crunch of "I Bet It Stung" and the electro-flecked "Are You Ten Years Ago" reveal that Tegan and Sara's true gift is coaxing different genres (power-pop, new wave, glam-rock) from their guitars -- without abandoning their stripped-down inclinations.
With their almost-similar asymmetrical shaggy haircuts, the duo looked like matching elfs; the harmonies the pair created as well felt otherworldly, thanks to their accents. ("Like O, Like H" in particular felt like a stereo-surround experience.) The buzzing rock nugget "Hop a Plane" and piano-blessed "Back In Your Head" ended the main set on a high note.
But of course, these songs were broken up by countless instances of stage banter -- which is a staple (and much-beloved part) of Tegan and Sara's set. One story involved a remembrance of their high school coffeehouse gig, which earned them $20 ("Or $25?" they tried to remember), but sometimes embarrassed their mom, because she would chastise them for fighting onstage while playing (which lead to a tense ride home). Amusingly enough, their mom still calls them today about gigs -- thanks to copious amounts of YouTube footage of these conversations. But the sisters reassured that their mom is their "biggest supporter," and then dedicated a song to her.
(A dedication to openers An Horse and their deceased lawyer lead them to quip at one point that they felt like Whitney Houston, they were shouting out so many songs to people.)
Sara also told an extended story about her "grade 3 boyfriend," who won her heart by giving her a box of hockey cards; her favorite player was from the St. Louis Blues (which coincided with her love of the home team's jersey, even though her hometown boys were the Calgary Flames). She asked the rest of Tegan and Sara's crack backing band -- three talented male musicians on bass, guitar and drums, all of whom helped the duo's songs spring to life -- if they had grade 3 girlfriends (and if so, what gifts they gave; a teddy bear seemed to be the lone token of appreciation); this morphed into the fact that she wants to be reincarnated as a boy. (Got that?) As she rambled on, Tegan -- who was waiting behind the keyboard to play -- turned on the metronome, causing Sara to turn around and say playfully, "Tegan, you bitch!" It did the trick, though; the story ended, and the music began again.
Still, these stories didn't detract from Tegan and Sara's music -- which just demonstrates exactly how talented the duo is.
Tegan:
Sara: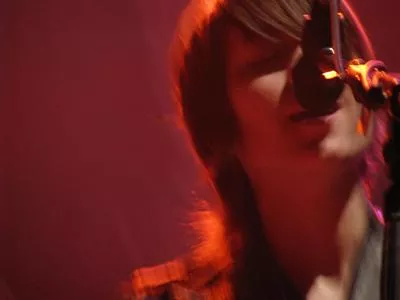 Tegan:
Sara: