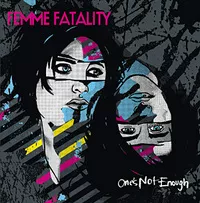 In this week's Homespun, Christian Schaeffer reviews Femme Fatality's new CD, One's Not Enough, which is coming out on Stickfigure Recordings. He had this to say:
Like the Strokes' Is This It?, the album title One's Not Enough seems to be Femme Fatality's way of preemptively baiting a backlash — but really, boys, one album was enough. 2004's Never Had a Daddy was a fun dose of synths, drum machines and dumb-dumb club-kid lyrics that came at the tail end of electroclash's brief moment of ubiquity. The darkwave electro-pop duo's Eurotrash stage names and the intentionally ridiculous songs (like the prescription drug-referencing "Dr. K") allowed everyone to be in on the joke. Since that record's release, the band has broken up and reformed several times, only to reemerge with a new album on a respectable little indie label. The question remains: Are these guys for real?
Decide for yourself by
reading the rest of Schaeffer's review
, heading to Femme Fatality's CD release show on Saturday night, May 3, at the
Creepy Crawl
or by listening to/downloading two songs below:
MP3: Femme Fatality, "Lucky Lover"
MP3: Femme Fatality, "Connections"