Here are some choice outtakes from the Livers feature running this week. The band plays at the Bluebird tonight, with Yea Big & Kid Static, Robb Steele and Jason and the Beast.
MP3: The Livers, "2 Legs to Dance" (download) MP3: The Livers, "Autistic Girlfriend" (download) MP3: The Livers, "She Wolf" (download) MP3: The Livers, "Humble Plight" (download)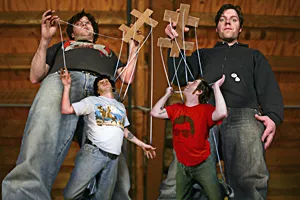 Do you always sing lead on the ones you write?
Scot Freeman:
Yeah, we do, but there's a lot of universal themes going on. It's kind of a weepy bastard theme, which is really played out but it never really gets tired. Yeah, we've definitely got some hang-ups. Like, everybody has one or two breakup-y things that they'll never get over. And we've written some songs about that shit. But, I don't know. We're trying to, like, ease out of that into a little less obvious territory.
Luke Roulston:
[teasing] Scot, are you going into Elliot Smith land?
On why they go humorous: Roulston: Have you ever watched a band where they spend way too much time talking in between their fucking songs? Part of a show is, like, making sure your guitar is in tune and that everything is okay and all that kind of stuff. It's like, "Why not at least make people fucking laugh while you're doing that stupid shit?" It seemed like a necessary element for our stuff to just make funny movies. Freeman: We have a tendency to go to funny, cause that's what we like to do: to make each other laugh all the time. It's always about poop and pee and whatever, but, uh, we also try to make things that are cool and not just cats and stupid jokes. Roulston: (joking) Yeah, let's do drama!
On their mutual admiration society, skill-wise: Freeman: We're both like -- we're not one note. [to Luke] You're not just a guitar player. And I'm not just a drummer. We kind of like to do a lot of stuff. He's a fuckin' great artist and I like to, uh, play drums and dick around with all kinds of stuff. So just, one day, Luke actually had the epiphany for me that we should have a band where it was all just me and him. Roulston: I'm like "We can be our own backing band. you can play drums and I can play bass and we can just be our own guys, you know. Like, we can sing." I'd seen him in bands before, like in Chiaroscuro, he was the guitarist, but, I saw him in other bands where he was the drummer and I was like "Fuck, I gotta have those drums." He's the best drummer in St. Louis. Freeman: I will say that I'm the best drummer in st. Louis that is willing to play with me. Roulston: And me. Freeman: [to Luke] You definitely have to qualify that. It's actually, like, when I was sixteen i got a tape deck, a multi-track recorder. Like, a four-track recorder? You can record the drums and record the guitar and you can sing. My dad got it for me. It made my entire teenage life to have that thing. Roulston: Right. (nods in agreement) Freeman: And I was like "If only I could find a drummer like me to play with me. Even if my music was mediocre, I'd always be really happy." I really loved recording music by myself. Roulston: Well, when I say you're the best drummer in St. Louis, we're saying that's for us but the reason is because I want, very specifically, a type of drummer. I want hard-hitting drums. And he plays them better than most drummers I've ever seen.
On Radiohead: Roulston: Radiohead is, like, not selling albums anymore? [laughing] What the fuck? It's like, a donation system. And i actually donated! Freeman: Which is why they are my motherfucking heroes. Roulston: I know! Freeman: 'Cause they gave the fader to everything that everybody wants in a band.
On the Livers' progress: Roulston: The soul of it is that we're always trying to make it something better than it has been. It's basically updating it. Like, do you remember how the Internet was when you first got on it? Like, eh. [makes thumbs down] And now, it's like, it's all about porn. and that's all I wanted! Freeman: (laughs) But we always do update. we never regress.
On the song "2 Legs to Dance": Roulston: I think one of our best songs, and other people have backed us up on this, is the "2 Legs to Dance" song. And we completely approached that as, "I wanna write a dance song." Freeman: In a conceptual way. Roulston: We're like, "I wanna write a dance song. I want people dancing, goddammit." The irony of all of this is that I'm not really a dancer. I don't really like to dance. I grew up in a moshing crowd and then I got to old for that. So I'm just kind of like awkward. Freeman: You're just too self-aware, whereas I don't give a shit. Roulston: You're the funniest dancer ever. And not in a bad way. But with this song I was thinking, you know, basically it only takes two legs to dance. Scot worked on lyrics for a while and he showed them to me and it was (singing) "We got the night off let's celebrate! And get fucked! Get fucked! Get fucked!" and I was like "I love it." Freeman: We can both relate to that. Roulston: Yeah, cause that's the only way I will ever dance, if I'm completely wasted. I have to be so completely fucked before I will actually venture out onto the dance floor. Freeman: It's probably the most shallow song we've ever written but it might also be the most deep song that is ever written 'cause everything we say in there is totally fucking honest. Whereas like everything else is kinda cryptic. Like, "I'm gonna shroud what I really mean in a fuckin' metaphor." But "2 Legs to Dance" was like "Let's get drunk!" Roulston: Let's get fucked up and dance!