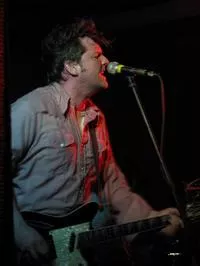 Where was everyone on Saturday night? They certainly weren't at the Bluebird for the Safes/75s/Chapters show, where attendance topped out at maybe 30 to 40 people. The sparse turn-out was a shame, especially since Chicago headliners the Safes performed a stellar, mesmerizing set of garage-hewn power-pop.
Like other classic Illinois power trios before them – such as Rockford's Cheap Trick and especially fellow Chicagoans Material Issue – the Safes trade in big hooks, gooey harmonies and British Invasion-like jangle. Brothers Patrick, Frankie and Michael O' Malley drew on tunes from 2006's Well, Well, Well and performed new songs slated to be on an upcoming release as well. Patrick and Frankie switched drumming and guitar duties halfway through, but their set remained lively and seamless, and a perfectly buoyant end to the sunny, spring-like day.
The members of fellow power-trio The 75s were obviously bummed about the small crowd, even asking several times where everyone was. Perhaps as a result of the lackluster turn-out, the band's sweet-and-sour indie-pop was sloppier than past times I've seen it – although the cover of the Buzzcocks' "Orgasm Addict" was spot-on.
The 75s, "Orgasm Addict":
The 75s Live at the St. Louis club Bluebird, April 5, 2008 from annie zaleski on Vimeo.
Chapters, a newer local band on the scene, opened the night and performed about as well as it had the last few times I saw it. The group's sound -- a doomy, theatrical brand of brooding new-wave/synthpop indebted to She Wants Revenge and Editors – is professional-sounding and confident, and the band members are obviously talented musicians. But its set sounded entirely monotonous, with little sonic variation or interesting dynamics to separate one song from the next. Becoming more comfortable on stage – and focusing its songs with tighter, more compact arrangements – should help Chapters out immensely in the future.
(picture of Frankie O' Malley of the Safes and review by Annie Zaleski; video by Shae Moseley)