If you are a fan of St. Louis hip-hop and you weren't in the vicinity of the Delmar Loop last Friday (March 21), then you are wack. It was a banner evening for the Lou underground as virtually every quality rapper in the city was showcased at one event or another.
(photo by Keegan Hamilton)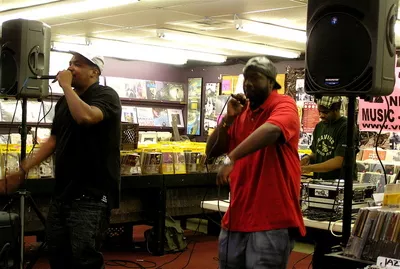 Things kicked off at Vintage Vinyl with an in-store performance from Black Spade (pictured). Fresh off a performance at SXSW and a slobbering Pitchfork review authored by RFT alum Ben Westhoff, Spade celebrated the release of his debut solo album To Serve With Love by kicking out thirty minutes worth of tracks from his new LP. The crowd, dotted with Spade's family and a who's-who of the St. Louis underground, lined the aisles of Vintage and provided plenty of fodder for Spade's playful stage banter.
MP3: Black Spade, "Actioneer (Waajeed Remix)"
The energy carried over to the Duck Room at Blueberry Hill, where Tef Poe, Rockwell Knuckles, Chaundon (a North Carolina native who collaborates with Vandalzym and the Justus League), Gotta Be Karim and Vandalyzm all performed.
Fresh off a bout of food poisoning, Poe battled a weak voice for much of the night but was rescued by the dynamic duo of Family Affair who joined Tef on the stage for the set's strongest song. RFT cover boy Rockwell Knuckles was up next, and he delivered what may have been the strongest set of the night: twenty minutes of pure, honest, hard-hitting hip-hop.
After Chaundon showcased some killer 9th Wonder-produced tracks, the stage was left to Vandalyzm and Gotta Be Karim, who took the stage together and put the evening on ice. Like Spade, Karim was celebrating the release of a new record, his Bean Pie EP, which dropped officially on March 21.