(Our Internet access has been down at the hotel; apologies for late posting!) RFT freelancer Roy Kasten is blogging from SXSW. For more coverage visit Living In Stereo. All pictures by Dana Plonka.
I would be remiss if I didn't begin this post about the Domino Records showcase at Antone's on Night One of SXSW 2008 with a mention of how I loathe "guerrilla performances." And I especially loathe those that take a captive audience—in this instance, all of us saps waiting two hours in line outside the club—and submit those prisoners to tedious, tuneless, pseudo-funk jams. Wednesday night the torture came courtesy of a Venice Beach, California band called People's Party (and I decline to link their myspace). Seriously, fuck them and their $50,000 mobile-stage-in-a-truck polluting the street and pissing off the unwilling and uninterested. I was cranky enough watching the smug badge-people file past all night.
And I'd be remiss if I didn't further disseminate a new word in the English lexicon: badgey, an adjective meaning the attitude expressed by certain possessors of South-By privilege, who may or may not go so far as to wave said token in your face. Common usage by SXSW bouncers: "Don't get all badgey on me, dude."
But after hours in line, I entered Antone's during the middle of the slot assigned to Lightspeed Champion (a.k.a. Devonte Hynes). The former singer and songwriter behind the dismal and defunct (I hope) Test Icicles has garnered a bit of buzz, at the very least with a 19-year-old from Seattle who proclaimed Hynes the next Weezer. OK, now I understand where the bar is set. I heard little in Hynes' tunes, lyrics or voice, and even less, if that's possible, in his furry hat. Decent Takamine licks though, and a good violin player, but surely if one is going to try what's essentially a solo acoustic set at a primo slot at the primo music event (cough) on the planet, you probably should have a few songs that rise above the level of the average open mic. Hynes didn't.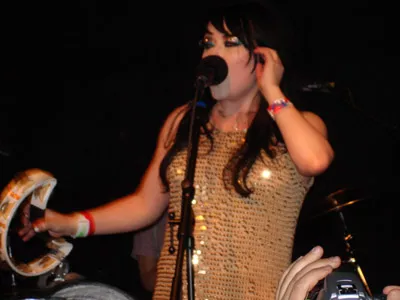 (Sons and Daughters)
Next up was unknown (to me) Glasgow, Scotland band Sons and Daughters, fronted by dominatrix in-training and gold-sequins Adele Bethel. This was a rock band, or more precisely, a left-of-center rock band, not that far from early Pretenders or even, occasionally, X, if those bands had grown-up under the sway of electronica. Not that S&D had any non-trad guitar rock instruments, but they shifted between straight rock rhythms and high RPM ferocity, and seemed to have a taste for a hook or three. And when Bethel cracked her microphone cable like a whip, I straightened up and submitted. Best discovery of South By Day One, easy.
The same could not be said for The Kills, who, yes, I was warned were "over-rated," though saying that about a band performing at the epicenter of over-ratedness isn't saying much. Alison Mosshart and Jaime Hince took the stage behind a heavy electro beat (no drummer, no bass) and some staggering Vox over-drive. Mosshart looked a bit affected in felt-and-feathered hat and Cousin Itt hair (thanks Dana!) and sounded like nothing so much as a pitch-shifted Jack White—only, and this is important, without discernable songs. The set was all psycho-drama posturing, and the beats sounded cloned, the shrill emotiveness unbelievable and, to this listener, unmoving.
(The Kills)