In this week's paper, Mike Appelstein interviewed the 75s, who will be celebrating the release of their debut CD, Extra Fancy, on Saturday at Lemmons. The show starts at 9 p.m. and also features The Blind Eyes and Kentucky Knife Fight.
The feature can be read here, but Mike also coaxed some great quotes out of the band on topics including Morgan Nusbaum's high school band, Laurel Mydock's run-in with a bottle of sulfuric acid and the 75s' place in the St. Louis music community.
MP3: The 75s, "Chemistry"
Mike Appelstein: So what was Galaxy Rock Meets William like? Morgan Nusbaum: We started in high school. We tried out for a talent show. Our friend, Matt, had this book of 101 pet jokes. So we were playing music in the background and he was reading these pet jokes. The song kept building up, and the last joke was, "What do you call a cat that bites? Catnip." And he starts yelling, "CATNIP! CATNIP!" The song was called "Dead Battery Catnip." Eventually, I started singing crazy backup soul singer type of stuff, playing slap bass. I rapped on one song. Scott Lasser: What did you rap about? MN: Bacon. And dyeing my hair.
How long had the 75s been playing together before your first show?
SL:
Early spring.
Laurel Mydock:
I probably had about five songs together; we wanted to get some songs together before asking a bass player. I think we were all anxious to get back out onstage; it had been awhile.
SL:
It helped that very few of our songs were over three minutes.
LM:
I think the longest song on our CD is "Oh, Tommy O." And by the end of it I'm thinking, "God, this is so long!" And it's three minutes.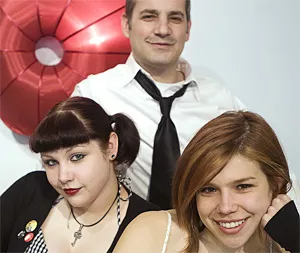 On Laurel Mydock's run-in with sulfuric acid: SL: Laurel was in the lab once – I was outside the door – and I heard this scream. Laurel had managed to spill a four-liter bottle of sulfuric acid all over herself. LM: The same shirt I'm wearing tonight. I had two shirts on under it so it didn't quite make it through the shirt, but it got my leg pretty good. I have a scar from it, and this stuff that looks like a tattoo. And I'm really cool with it, since I never bold enough to get a tattoo. SL: And Laurel wasn't playing the guitar for awhile. You weren't sure if there was nerve damage. LM: Just stupidity, I guess. I was putting this bottle away; I had rubber gloves on and it was a glass bottle, and they stuck together and pulled the bottle back out of the cabinet. And it broke and came shooting at me. You know how something happens and you don't want to make a big deal out of it? Afterward I was supposed to be going to a party at my professor's house; I just had to stop by the lab to do something really quick. So I jump in the sink, rinsing myself off. I found my phone and called my friend – she's at the party already – and asked what I should do. My clothes are disintegrating and I'm questioning whether I should make a big deal out of it. But I ended up writing a song called "Chemistry."
I wondered about that. LM: We wanted to do the video in my chemistry lab. SL:Laurel's like, "What rhymes with glycosylation?"
Indiepop isn't such a prevelant genre here in STL. SL: I wanted to do something kinda girly, kinda indie, and Laurel liked the garage sound. LM: He always tries to play stuff for me. We were painting the walls bright orange, and. I said "Put something on!" All this stuff tends to go in one ear and out the other. He played Cub and I really took to it. I was painting and moving. That really got the whole thing going, was the simplicity. SL: Betti-Cola. LM: That was when I figured out how to start writing vocals. It didn't matter that they were on the verge of barely being able to play their instruments. You can still detect the vocal melodies and the bass.