(Click on any photo for a bigger image. Photos by Will Jones.)
After being Daft Punk'd Friday night, I spent the next day with a friend and didn't get to the fest until super-late -- which was okay, since one of the bands I wanted to see (CSS) cancelled due to airline shenanigans. I was only upset to show up so late because I missed hometown homeboys Ludo, who played at the early hour of 12:30 p.m. (Early for me on the weekend, all right?)
But I still hustled when I arrived to go see the Hold Steady. I've been very open about not really being into the band -- not out of rabid dislike, but mostly indifference. I didn't "get" it, even though I've tried and asked countless uber-fans to explain the band's mystique to me. But since I figured a big festival full of sweaty, drunken people was the ideal setting to see the notoriously boozy band, I marked it a must-see gig.
Beer in hand, I trudged down a big hill fifteen minutes into the band's set. And I finally "got" the Hold Steady, about two years after the rest of the world. Perhaps it was the thousands of people pumping their fists in time to the bar-band tunes and singing along to the lyrics. Maybe it was vocalist Craig Finn's staunch Minneapolis pride (in the form of a Twins jersey and a simple, unadorned dedication of a song to "anyone affected" by last week's bridge collapse).
More likely my affection stemmed from the band's genuine demeanor. At one point near the end of the set, Finn looked overcome by emotion as he surveyed the crowd. "We started this band four years ago to have enough money for beer and an apartment," he said. "Now we're going to Dublin to open for the Stones." He paused, and looked choked up, mentioned how much fun the band was having up there -- and finished with a heartfelt "God bless you."
The Hold Steady's live show and swaggering music bled this same kind of honesty, said the things we all say at the bar after a few too many whiskeys. Other members of the band donned dapper suits -- an appropriately saloon-like throwback to the bar-band piano tunes, even if the ragged stories about bad dates, aimless twentysomething living and finding salvation at the bottom of a beer mug were ultra-modern. Perhaps finding several thousand other people who found equal meaning in the band's existential crises (if not spiritual crises) helped my cause -- or maybe it was the grounded, real-world-practical-application half of the spiritual awakening I had during Daft Punk. Either way, a highlight -- yes, I'm finally a convert. Sorry if the above was a little too "duh."
I then trudged over to the mainstage to angle for a spot for Muse, and caught the Yeah Yeah Yeahs -- who were shockingly consistent and rather entertaining live, a nice change from the boring snoozfest that was its last record. Karen O's shtick was predictably "wacky" and "outrageous" -- see the pic of her doing her best ostrich impression underneath some silvery cape? Uh, yeah -- if not "obnoxious": To preface the moving love-song "Maps" Ms. O screeched to the crowd: "How many of you motherfuckers have fallen in love this summer?" Romantic!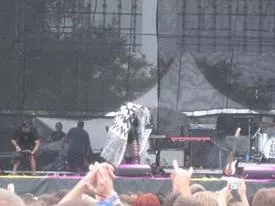 But there's no doubting the dance-punk energy of "Y Control" and "Date with the Night," two tunes that ended the set with appropriately high energy.
And then it started to rain. Hard. Appropriate, since Muse was headlining -- and being British, the group is well-versed in playing large festivals in the pouring rain in front of mad adoring fans. I huddled under...nothing, since I had no umbrella/poncho/jacket. The only smart thing I did was wear jeans. Oh well.
I listened to Spoon, who played at the stage across the park. They sounded really good, actually; new songs ("Rhythm and Soul") melded quite nicely with old faves ("Fitted Shirt," "Small Stakes"); the band's Elvis Costello/Talking Heads influences remained firmly in place, with Stax-Soul touches also adding pleasing dimensions.
And then Muse. Oh, Muse. Its latest album, Black Holes and Revelations is a polarizing one for long-time fans; much poppier than previous albums, it's also more grandiose -- more prog influences, more keyboards, bigger political statements, bigger choruses. It's far less quirky and challenging of a listen than Absolution or Origin of Symmetry, although I think more inviting and interesting. Even champion bicyclist Lance Armstrong is a fan -- he watched the set from the soundboard!
So! The band's intro took the from of a speech by John F. Kennedy -- it doesn't get much bigger than that -- and then came out onstage and launched straight into Revelations' first song, "Take a Bow." This song builds and cresendoes and builds more and hits the heavens with screaming guitars, arpeggiated keyboards and an exploding chorus (literally on this night: Three huge video screens displayed fireworks at the end of the song). The next song was equally dinosaur-sized: "Map of the Problematique," a shuddering goth-night stomp that features vocalist Matt Bellamy's skyscraping vocal yowls.
The light and video show matched the band's music in scope, mostly coming across like a video arcade about ready to explode, with tons of flashing lights, video footage (including an army of lemming-robots, tranquil nature and, during "Stockholm Syndrome," as our video shows, scenes from Galaga) and smoke. Lots of smoke.
Bellamy really is the star of the band -- not just because of the chaos-pad (think of it as a flat-screen theremin) he played on his guitar which distorted and gnarled his melodies to insanely heavy heights, or the classical piano moves he brought out. Seriously, his playing was practically virtuoistic on early Muse songs -- and his demeanor during his time at the keyboards was as blissful as Thom Yorke's during a Radiohead tour a few years back (the only Radiohead reference I'm going to make!)
The band appeared to be having sound problems, however, which somewhat killed the flow of the set; several little jams occurred while Bellamy ran offstage, rendering the middle of the set rather draggy. But the throttling "Stockholm Syndrome" and then the encore of "Plugin Baby" and the intense, galloping knights of the apocalypse tune "Knights of Cydonia" were nuclear -- well, when you have tens of thousands of people screaming, "No one's going to take me alive / The time has come to make things right / You and I must fight for our rights / You and I must fight to survive," how can it not be epic?
By the way, Lollapalooza.com is posting setlists here. How rad is that?
Later on, I went to a night show featuring Chin Up Chin Up and Ted Leo. (I left before the Ponys. Oops.) The former (what I saw of them) was great, really Britpoppy math-rock. And Ted? Well, considering the fact his afternoon set was cut short by a good 15, 20 minutes, it was nice to see him in a small club. His compact, economical mod-pop was particularly energetic this night, as usual owing quite a bit to the Clash and Jam. And was really fucking good. But like how I feel about his records, I started to lose interest about halfway through. Oh well.
Then it monsooned on me. And I came home soaking wet. Ah well.