(Photos by Will Jones. Click the image for a pop-up picture.)
About an hour or so into Daft Punk's headlining main-stage set at Lollapalooza, I had a religious experience.
Now, wait -- lest you think this is hyperbole, hear me out: I was not drunk (one beer all day), was not high (unless you count contact high from the sweet pot smoke hanging heavily in the air) and I was totally sane.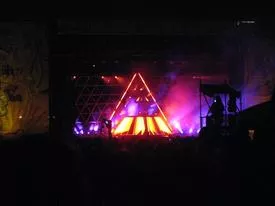 But during the French dance-funk duo's 90-minute set -- a particularly throbbing, beat-heavy, rave-tastic, building-to-a-climax part of it -- I closed my eyes and suddenly felt the music wash over me, permeate my brain and take over my body. The rhythms continued apace, I continued to dance, but I also felt the rest of the tens of thousands of people-strong crowd disappear, the sounds they made fade into a dull roar. All that was around me was Daft Punk's computerized tunes, worming their way into my soul. A sudden sense of peace came over me -- an unexplainable calm, really.
The initial rush faded after a few minutes, but the peace lasted (and has continued to last until now). Lately I've been very tired, my body very sore, and I've felt prematurely old; but after this little peak, I felt looser and more free to dance and move, without feeling self-conscious or in pain. I didn't feel trapped by my body and its physical limitations; I felt in control -- even if the music was controlling me.
"I just found God!" I exclaimed to my friends.
"What did He look like -- a robot?" they retorted, in reference to Daft Punk's stage outfits: two reflective helmets and suits that looked like astronaut gear -- but (as we would find out later) equipped with LCD lights lined in red, and "Daft Punk" logos in lights on their back, so when the lights went dark, the two men were silhouetted in red lights.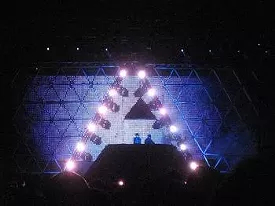 They were kidding, but the concert as a whole was an astounding display of lights and sound. The stage setup was a gigantic pyramid -- which at any time looked like it would have taken off into outer space -- with its tip raised, revealing the two men of Daft Punk working their light and video magic. An LED grid in the back and one on the pyramid itself contained lights that zipped and zig-zagged in time to the music, at times reminiscent of '80s video games that were mere lines (you know, like Asteroids), at times redolent of Star Wars' galaxy-hopping, at times simply huge explosions of brightness.
And the music? Daft Punk mashed up itself most often -- "Harder Better Faster Stronger" with "One More Time" was completely insane, in the best possible way. "Da Funk" was played rather straight near the end of the set, although the duo interspliced snippets earlier, while "Technologic," "Rollin' and Scratchin'" and "Robot Love" (and a bunch of other things) also made appearances.
Even more impressive -- Daft Punk somehow managed to make its human-robot dichotomy completely sexy. Whether it was the heavy pulsating rhythms, the overtones of romantic French funk or the confluence of the dirty, sun-soaked crowd with the brilliantly lit Chicago skyline, something about the music cried out for coupling, signaled a yearn for connection and bodies slamming together.
I saw a lot of other things today, and have two more days to go. But this was one of the best shows I've ever seen. Pictures and video forthcoming.