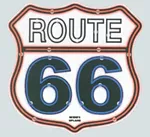 As of late, new venues are popping up around town more than daisies do in the spring With a growing list of local music supporters sprouting up, only time will tell if each can hold their own. One thing's for sure, though – people are starting to take more of an active interest in the music scene, and each new site for sounds harvests its own brand of goods to bring to the table.
Husband and wife co-owners Matt and Angel Bostick planted the seed for their bar and grill, Cruisin' Rte. 66 (7895 Watson Road), back in February. Since then, they have continued to tend to their burgeoning business with a "golden rule" mentality.
"We believe in having fun and treating everyone just as fairly as we can and having a good time," said Angel. "That's what it's supposed to be about."
She said she hopes to see a bit more fairness in the music industry as far as original bands go. According to Matt, the couple was tired of hearing about their friends in bands getting screwed over by promoters and hopes to dispel this type of treatment by giving performers 100 percent of the earnings through door and ticket sales.
Angel, whose family owned a vending company for over 40 years, said she grew up with the privilege of knowing area club owners, such as the proprietor of Frederick's Music Lounge, who sang at her mother and stepfather's wedding.
She continues to stress that she just really wants to see more people out there really doing something to support the scene.
"I don't see many people that really understand what it means to support local music. There are a few that get the concept," she wrote in Cruisin's MySpace blog.
"They are the ones that live it, breathe it, work it and are pushing the movement of local music. They go to the shows, they buy the merchandise, they spread the word, they don't complain about buying a ticket or paying the cover charge," she writes.
As far as the type of music represented at Cruisin', the couple says they book things mostly in the genres or alternative, rock and punk, in addition to cover bands.
Matt says the bar boasts a bit more intimate setting. "Pretty much anywhere you sit, you're within 30 feet of the stage," he said.
With performances by locals on Mondays and Tuesdays, karaoke on Wednesdays and Thursdays, and more live bands on the weekends, the south county club is is cruisin' for amusin'.
-- Mabel Suen