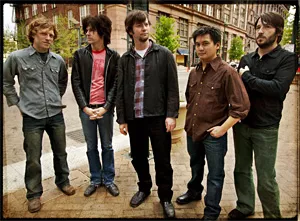 A publicist for Son Volt reports that the band will be releasing a double-vinyl LP called Chant and Strum on July 31. Here's the press release:
Transmit Sound/Legacy just announced that they will be a releasing a special extended double LP edition of Son Volt's The Search on vinyl. Previously an iTunes exclusive, the new LP, Chant and Strum, boasts all twenty-two recordings from The Search's studio sessions. Only 1000 copies were pressed for this extremely limited edition.

This month ESPN tapped Son Volt to remake the Beatles' classic tune "Hello, Goodbye" for a commercial that heralds David Beckham's July 21st arrival to the LA Galaxy.

2007 has been an incredible and explosive year for Son Volt. Most recently, they were nominated for the Americana Music Associations' prestigious honor of "Best Duo Group" of the year. Following the release of The Search, Jay Farrar and the band have performed on the Late Show with David Letterman and Late Night with Conan O'Brien, toured North America extensively, and received accolades from the New York Times, Newsweek and the Associated Press amongst others.
View the ESPN commercial here. We'll have a review of the album as soon as it arrives at our office.