Much has been made around the blogosphere this week about the diary John Roderick of the Long Winters kept about Bonnaroo. (For excellent exclusive photos of the event -- including one of Beatle Bob dancing and Jeff Tweedy playing baseball -- go here!)
In a nutshell, he hated almost everything -- although he described bands in a hilarious way. For instance, about the Hold Steady: "I felt like I was at a dot-com Christmas party and a bunch of drunk webmasters got up on stage to jam, with the company cut-up rapping their mission-statement out of a three-ring binder. And everyone at the party said, 'Whoa, those guys are actually good. They should form a band.'"
But Roderick certainly didn't hate the food he had at Blueberry Hill when the Long Winters swung through town in early April. No, as A to Z operative Mike Cracchiolo found, the cranky critic loved the Hill's chili-burger. To wit:
Step one: Open the burger.
Step two: Pour chili over the burger.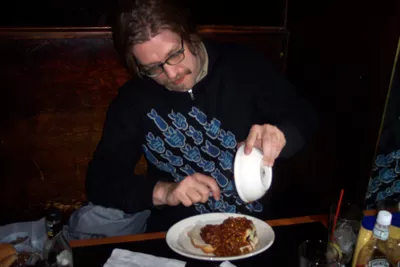 Step three: Tasty synchronicity!