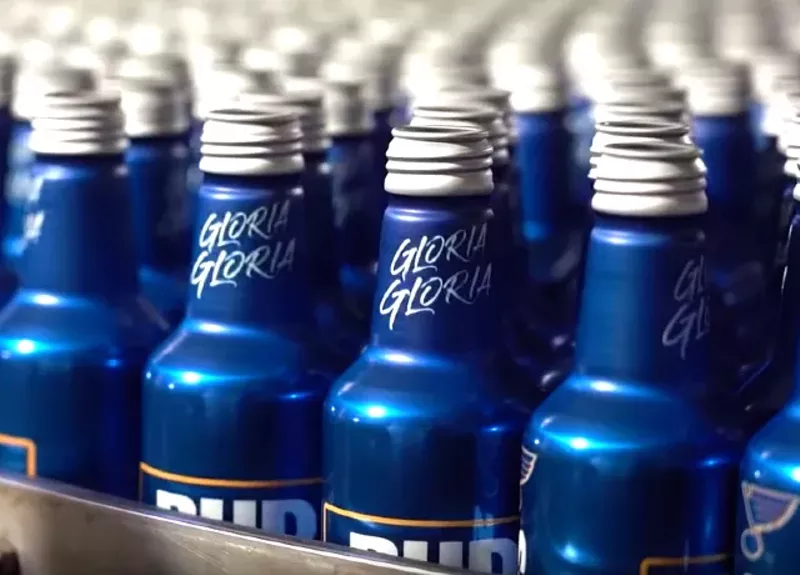 SCREENSHOT VIA YOUTUBE
After all, we have a feeling we'll be hearing "Gloria" a lot this weekend.
We're mere hours away from the
NHL All-Star Game kickoff in St. Louis
, and if you're like us, you're finalizing plans before settling in for the fun.
If you're attending the game (you lucky son of a gun), we have
a guide for what to do around town in your downtime
and which
local eats and drinks to try at Enterprise Center
. Or maybe you're like us and can't afford a seat in the arena, in which case, we have compiled a list of our
favorite hockey bars and St. Louis Blues fan destinations
to watch the festivities. To that same end, we've also collected a list of our favorite St. Louis Blues-themed spirits in case you're planning to tune in from home.
1. Jägermeister, "The Official Shot of the NHL"

For some of us, Jägermeister conjures blurry memories of college parties, but for the NHL, it's a beloved digestif. Ten teams in the NHL consider Jäger their "official shot," including our St. Louis Blues. You can even find a Blues-themed label on some bottles around town, including at
the Wine & Cheese Place
(multiple locations, including 7435 Forsyth Boulevard, Clayton; 314-727-8788)
, which is
hosting tastings of the digestif and other hockey-themed spirits this weekend
at its Forsyth store.
2. St. Louis Blues Red Wine and Sparkling Wine
If you're a hockey fan who also appreciates a quality California
Cabernet-Merlot blend,
this St. Louis Blues-themed wine
is for you. The limited-edition bottle design includes the Blues logo etched into the glass. For a bit of the bubbly, try this metallic St. Louis Blues bottle of
dry California sparkling wine
.
3. Center Ice Brewery's Old Arena Lager
Named after the former St. Louis Arena/Checkerdome that was the Blues first home, Old Arena Lager is "a crisp, American Lager designed to pay homage to the style of beer that put St. Louis on the map," according to
Center Ice Brewery
(3126 Olive Street, 314-339-5733)
.
Head to the brewpub
for a crowler of the beer to enjoy at home or simply grab a few pints on-site.
4. 360 Vodka St. Louis Blues Championship Edition
Based in Missouri,
360 Vodka
promotes itself proudly as "the world's first eco-friendly vodka." The distillery has partnered with the St. Louis Blues for years to produce a team-specific bottle, but now that our boys in blue are Stanley Cup winners, 360 has upped the ante with a special championship edition of the vodka.
5. Bud Light "Gloria Brew"
Last year, in honor of the Blues finally winning the Stanley Cup, Anheuser-Busch released a special run of Bud Light "Gloria Brew." What separates "Gloria Brew" from your average bottle of Bud Light, you may rightly ask? According to A-B, the special batch of beer was brewed to the "sounds and spirit of the Blues' unofficial victory anthem, 'Gloria' as performed by Laura Branigan." To be fair, it seems that the song helped lead the team to its first championship win, so is it really a stretch to imagine that it improved Bud Light, too? The proof is in the pop-top.
6. Brett Hull's Código Tequila

Reader, I feel it's only right to disclose here that I once attended a
Código Tequila
tasting at Brett Hull's home and although I didn't get his autograph, I did take a selfie with his miniature Stanley Cup. I don't really remember what the tequila tasted like (enough of any spirit will have that effect), but I do recall learning that Código was the first brand to bring a rosé-flavored tequila to market, which is pretty cool. And hey, if it's good enough for one of the greats to invest in and promote, it's certainly good enough for you and me to toss back.
Did we miss your favorite NHL or Blues booze? Let us know in the comments.


Follow Liz Miller on Twitter at
@lizzaymillah
. We are always hungry for tips and feedback. Email the author at liz@riverfronttimes.com.