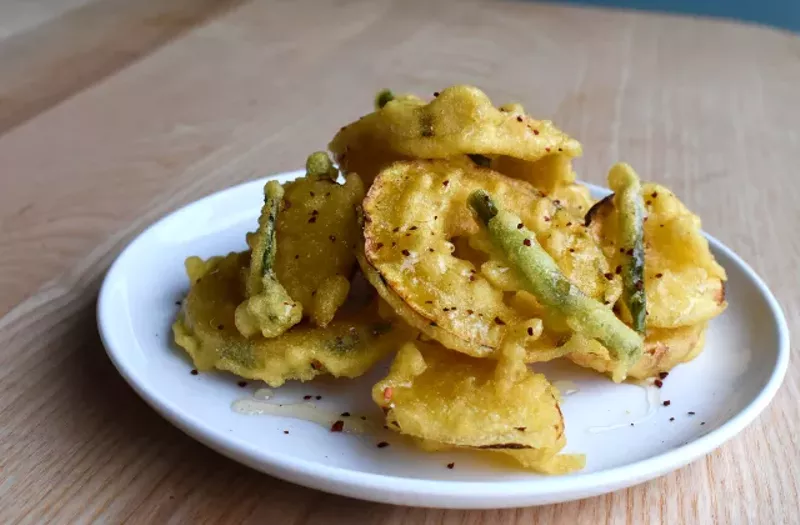 Liz Miller
Little Fox opened in Fox Park in early December.
Almost twice as many restaurants debuted or reopened in December as those that closed, and yet several that shuttered were longtime favorites.
Among the openings were
Little Fox, a highly anticipated
new spot in Fox Park;
Recess STL, a longterm pop-up gaming bar
; and the Get Down, a
funky new bar in the Grove
serving excellent late-night eats to boot. Two concepts focused on literature and promoting the literary arts bowed,
Protagonist Cafe in Soulard
and
High Low in Midtown
, while Bob Brazell reopened an
updated version of the iconic the Tenderloin Room
inside the Chase Park Plaza Royal Sonesta St. Louis.
It wasn't all good news, though: A handful of beloved spots closed for good during the last month of the year. In early December,
Brennan's announced that it plans
to close its current location and relocate elsewhere in the Central West End in spring 2020. Days later and just a few doors down,
Culpeppers announced it was closing
after 84 years. Both closings are due to expansion plans for the Saint Louis Chess Club.
Other notable closings in December include
Foam, which has been an anchor on Cherokee Street
for a decade as both a venue, bar and coffee shop, and Schneithorst's Restaurant & Bar.
Schneithorst's has operated at Clayton Road and South Lindbergh Boulevard since 1956
; the iconic restaurant closed on December 24 as the owner announced plans to convert the space into retail and office space. Maya Cafe, a staple in Maplewood, has also sadly closed its doors.
Closings
Brennan's
(still open but announced spring 2020 closing)
,
4659 Maryland Avenue, 314-497-4449
Culpeppers,
300 North Euclid Avenue

Foam,
3359 South Jefferson Avenue, 314-772-2100
Iron & Rye,
4353 Manchester Avenue, 314-449-6005
Maya Cafe,
2726 Sutton Avenue, Maplewood; 314-781-4774
Schneithorst's Restaurant & Bar,
1600 South Lindbergh Boulevard, Ladue; 314-993-4100
Openings
Citizen Kane's Market Place,
133 West Clinton Place, Kirkwood
DouDou Cafe,
6318 Clayton Road, Richmond Heights

The Get Down
(opened November 27)
,
1449 South Vandeventer Avenue
High Low,
3301 Washington Avenue, 314-533-0367
Jack Nolen's,
2501 South Ninth Street
Little Fox,
2800 Shenandoah Avenue
Protagonist Cafe,
1700 South Ninth Street

Recess STL
(longterm pop-up)
,
4500 Swan Avenue, 314-818-9112

Soupboi
(delivery-only),
www.doordash.com/store/soupboi-st-louis-811269
The Tenderloin Room
(reopened)
,
232 Kingshighway Boulevard, 314-361-0900
Follow Liz Miller on Twitter at
@lizzaymillah
. We are always hungry for tips and feedback. Email the author at liz@riverfronttimes.com.