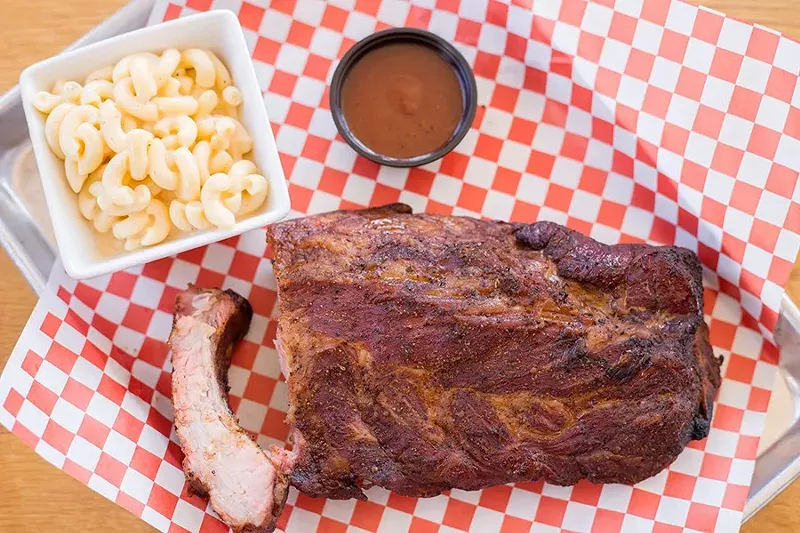 MABEL SUEN
J. Smug's GastroPit needed bigger digs for its huge barbecue flavor.
July's shockingly fiery temperatures may have had us begging for winter, but this hot restaurant month only made us hungry for more. This month saw several restaurants open additional locations, as well as a move when the Hill neighborhood favorite J.Smug's GastroPit grew out of its tiny gas station digs and
got the real estate it needed
just down the road. Other highlights include a new poke place for Clayton, a brick and mortar for the healthy food truck, UKraft, a new smokehouse in Dogtown and a fun Mexican spot in Southampton.
The biggest opening story of the month, however, is Alta Calle, a new venture from the folks behind the Manchester location of Las Palmas. When owner Veronica Morales
first announced the venture in April
, fans of her cooking were excited to see what she would do when she opened Alta Calle at the former Mekong Restaurant on South Grand. However, when it was announced that acclaimed chef Tello Carreon was coming on board, it elevated expectations significantly. Carreon garnered national recognition for his cooking in 2017 when, as the chef of Nixta, the restaurant was chosen as the 9th Best New Restaurant in the Country by
Bon Appetit
. It will be exciting to see what he can do in his new role at Alta Calle.
In less pleasant news, St. Louis said goodbye to three restaurants, including
Reeds American Table
, the debut restaurant by the talented chef Matthew Daughaday. The restaurant, which opened in 2015, was flush with hospitality industry firepower like Daughaday, Andrey Ivanov, Summer Wright and Alicia Blackwell, creating a dream team that turned out some wonderful experiences while it lasted.
Here's the complete roster. Did we miss anything? Let us know in the comments.
Closings
Laredo on Lafayette Square,
2001 Park Avenue, Lafayette Square
Reeds American Table,
7322 Manchester Road, Maplewood
Mi Lindo Michoacan,
4534 Gravois Avenue, Bevo Mill
Openings
A&W,
3788 Elm Street, St. Charles
Cafe 7even,
4729 Dr. Martin Luther King Dr. Drive, Greater Ville
La Catrina,
5220 Hampton Avenue, Southampton
Alta Calle,
3131 S. Grand Boulevard, South Grand
Smoked Mo's (additional location),
110 Old Meramec Station Road, Manchester
The Last Kitchen & Bar (soft opening June 28),
1501 Washington Avenue, Downtown
UKraft,
8182 Maryland Avenue, Clayton
Soulard Gyro (additional location),
4337K Butler Hill Road, South County
Hogtown Smokehouse,
6301 Clayton Avenue, Dogtown
Narwhal's Crafted (additional location),
1450 Beale Street, St Charles
LemonShark Poke,
33 N. Central Avenue, Clayton
Open Concept,
2712 Cherokee Street, Cherokee Street
J.Smug's GastroPit (moved),
4916 Shaw Avenue, the Hill

We are always hungry for tips and feedback. Email the author at cheryl.baehr@riverfronttimes.com.