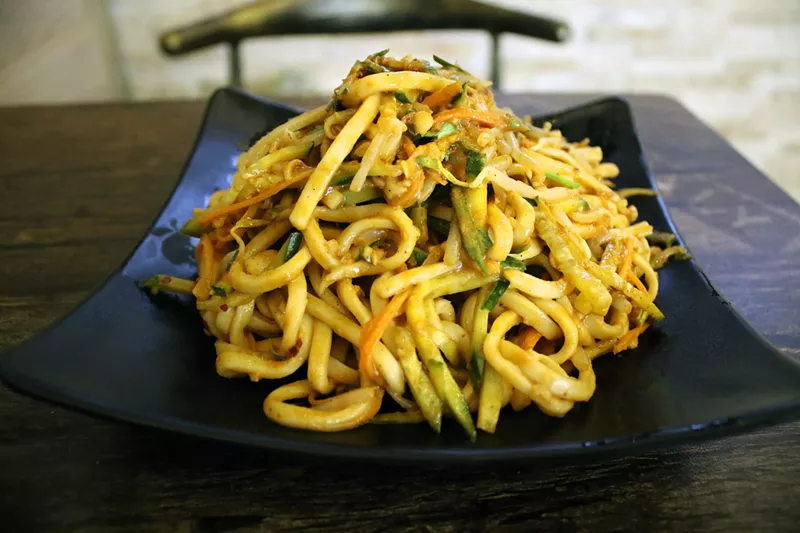 Chelsea Neuling
Sichuan Cold Noodles $6.50
In late January,
Bing Bing
(
567A Melville Avenue, University City
) closed without fanfare. Just two months later, Tasti-Tea opened in its place — and is offering some of the same Shanghai-style street foods.
Owned by Lei Qian, Tasti-Tea sells not only tasty teas and drinks, but also offers a large food menu. You can choose from smaller snack items such as chive pockets, beef flatbread or steam buns, as well as "Wonton Casserole" (which we ordered and is now served as a soup) and "Sichuan Cold Noodle" Soup (which we also ordered, and is now not soup), and many more items.
Like its predecessor, Tasti-Tea's most popular item is the jianbing, which is a Tianjin-style crepe. Made with egg and mung bean flower, they're a frequent breakfast treat but tasty any time of day. Other portable snacks include the chive pocket, which is just as it sounds: a pastry stuffed with chives.
Chelsea Neuling
For just $2.50, the chive pocket is a portable snack.
Speaking of tasty, Tasti-Tea's tasty teas include the categories of Milk Tea, Dirty Tea, Cheese Tea, and Fruit Tea. Cloud Smoothies are also available. These smoothies are fruity flavored foam and feature a nice mellow taste.
With just a handle of tables (the small space seats 20, with a few more outside), Tasti-Tea has counter service. The food is cheap and comes out fast. Nothing on the menu costs more than $15.99 and many items are under $5. Perhaps as a result, on the day we visited it was packed.
Tasti-Tea is open Sunday through Friday from 11 a.m. to 9:30 p.m. and Saturday from 11 a.m. to 10 p.m.
Scroll down for more photos of Tasti-Tea.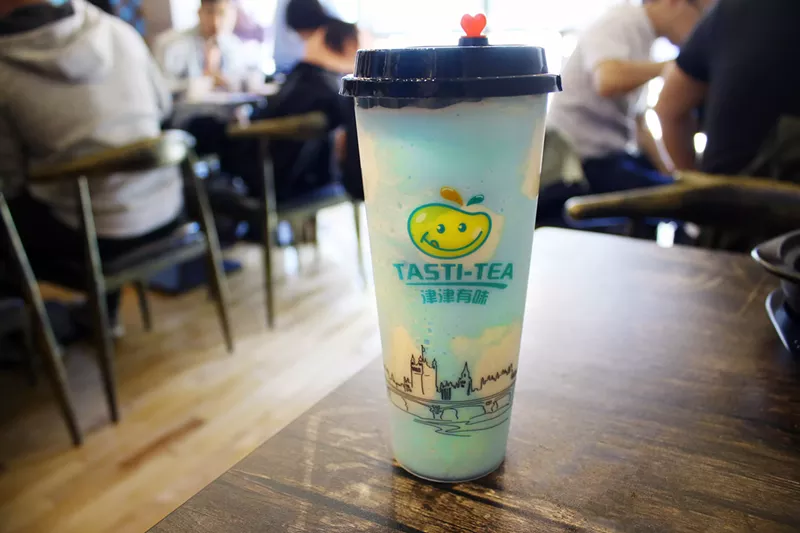 Chelsea Neuling
Blue Sky White Cloud- Cloud Smoothie $5.75
Chelsea Neuling
Wonton Soup $6.50