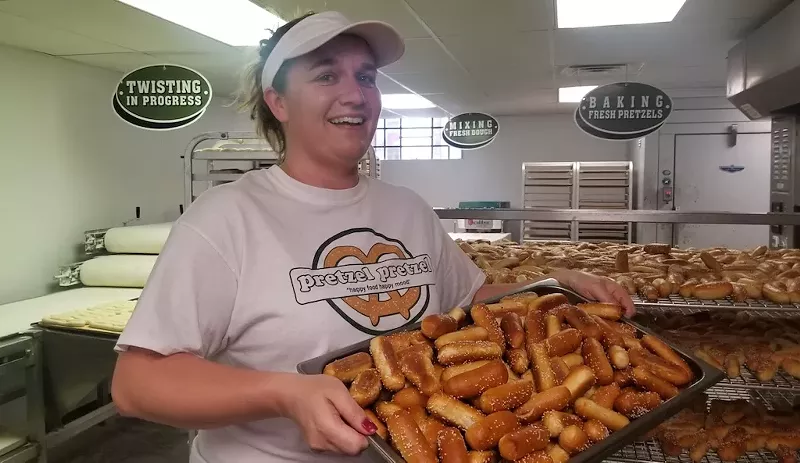 COURTESY OF AMBER SCURLOCK
Pretzel Pretzel owner Amber Scurlock will take the lead at hte new Oakville location.
Two years ago, a pair of former high school sweethearts opened a pretzel shop in Affton.
Pretzel Pretzel
(9614 Gravois Road, Affton; 314-631-8000)
has been such a hit, the owners are now doubling down on the pretzel business: They plan to open a second shop on Telegraph Road just south of 255 in June.
A complete build-out is currently underway on the new location, a strip mall storefront at 4338 Telegraph Road. Co-owner Anthony Simmons says they're converting a former law office to add a full kitchen.
But while Simmons is part owner, he says his partner Amber Scurlock will take the lead at the new location. Scurlock, who's raising their four boys just across the river in Illinois, says she wanted something close to home — and can't wait for her new seven-minute commute.
Beyond that, she says, the 1,200-square-foot shop should be perfect in every way. "Everything's going to be nice and new and clean in there," she promises. "And we've got plenty of parking, so that's exciting."
Indeed, parking has been a problem at the Affton original — but it's a good problem to have, in that Simmons and Scurlock have attracted more customers than they can always find space for. (They're currently working adding stairs to allow access to a side lot, which will add ten additional parking spots.) The shop has won a devoted following for its New York-style pretzels and nuggets, as well as meat-stuffed pretzels. They're also getting ready to roll out a "stuffed pretzel of the month" in collaboration with St. Louis restaurants.
As for the secret to their success, Scurlock says simply, "We always have hot, fresh pretzels. It takes eight minutes, but it's worth it, because everything is fresh."
Simmons and Scurlock first met as the new kids in school as juniors in Bismarck, Missouri — his family had moved from the city, which meant leaving Bishop DuBourg High School, and hers had moved from Dupo, Illinois. They've now been together for nineteen years, and when Simmons left Gus' Pretzels after fourteen years to start a business of his own, he knew Scurlock was the perfect partner in the venture. "We both love pretzels," he says.
Now that love is taking them further south. But that's not the only direction Pretzel Pretzel will be going; the partners have plans to open a west county location by 2020.
Editor's note: A previous version of this story referred incorrectly to Scurlock and Simmons' partnership. They have been together for nineteen years. We regret the error.
We welcome tips and feedback. Email the author at sarah.fenske@riverfronttimes.com