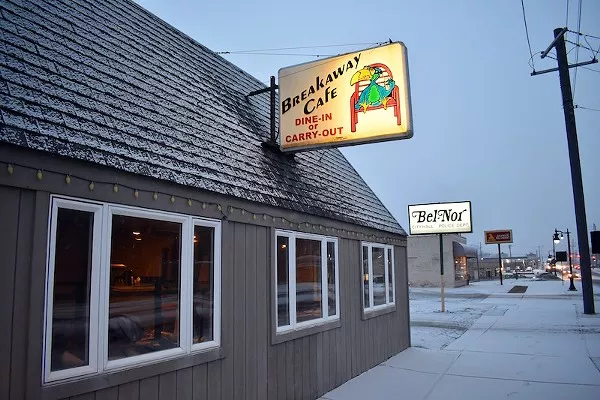 DANIEL HILL
Breakaway Cafe has offered jobs to Goody Goody Diner employees affected by this week's fire.
Just days after a late-night fire forced
the closure of Goody Goody Diner
, another north St. Louis business is stepping in to fill the void.
Matt Quinlisk, the owner of Bel-Nor's
Breakaway Cafe
(8418 Natural Bridge Road, Bel-Nor; 314-381-3554)
, says that he has reached out to both kitchen and wait staff and offered them positions while Goody Goody has closed. He's also adding breakfast hours, in hopes of "filling the void" while the diner rebuilds.
The cafe is located almost exactly three miles west of Goody Goody. Both are located on Natural Bridge Road, in a part of town that has fewer dining options than points to the south and west.
"It's important that people in North County have good places to eat and that people have places to work close to their home and community" Quinlisk says in a press release. "And that's why we want to serve breakfast while they rebuild."
Beginning next Monday, April 29, Breakaway Cafe will be open for breakfast from 7 to 10:30 a.m.
A St. Louis institution, Goody Goody Diner has been open since 1948. After
being badly scarred by a fire on Monday night
, its owners have said they will be closed indefinitely.
As for Quinlisk, he took over another St. Louis institution earlier this year,
taking over Breakaway Cafe and reopening it
just weeks after its longtime owners shuttered it. The longtime general manager of Sugarfire Smoke House's Olivette location, Quinlisk inked a purchase option and almost immediately brought back all the employees who'd lost their jobs. Now he hopes to do the same for a second restaurant — albeit this time, one hopes, as a temporary measure.
We welcome tips and feedback. Email the author at sarah.fenske@riverfronttimes.com