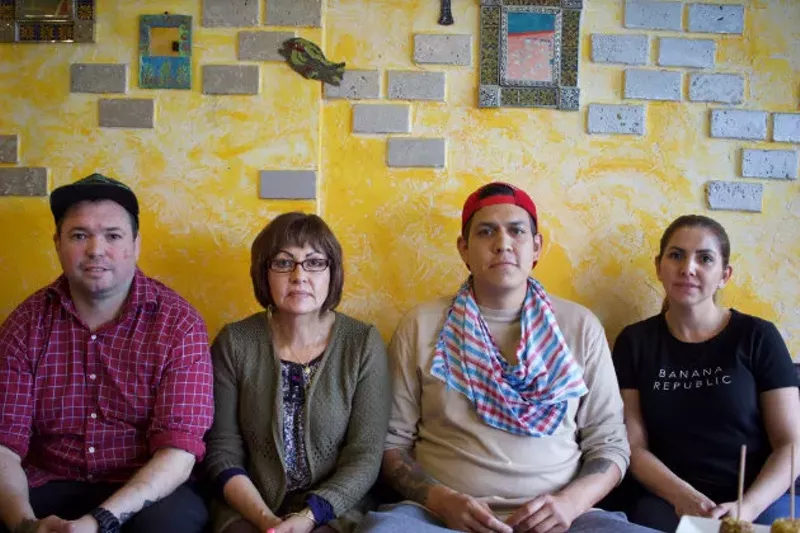 CHERYL BAEHR
Alta Calle is a labor of love for Mikey Carrasco, Veronica Morales, Steve Suarez and Dulce Morales.
The founder of the homegrown Las Palmas chain of Mexican restaurants, Veronica Morales, is teaming up with family members and a friend to open a new elevated street food concept on South Grand Boulevard.
Alta Calle
(3131 South Grand Boulevard)
will fill the space that was previously home to Mekong and Upstairs Lounge.
The new location feels like fate. Morales and her sister, Dulce, were walking around South Grand's main drag several month ago, scouting the area for a restaurant space. When they came across the old Mekong storefront, they were struck by its prime corner location and couldn't help but peek inside, even though there was no "For Lease sign" posted.
The next thing they knew, they were being greeted by the owner. He was looking for the right people to take over the restaurant, which closed last January after the
death of his son, Tu-Tien Tran
. The space had meant so much to his family, and as he chatted with the Moraleses, he knew they would be the right fit.
"We were really hoping it would work out," Dulce says. "We feel so lucky we were able to get the place." Now the sisters are going into business Veronica's son Steve Suarez and their family friend Mikey Carrasco, who was a co-founder of Taco Circus and has since worked at the Flying Saucer, Copia, Broadway Oyster Bar and, currently, Hamburger Mary's.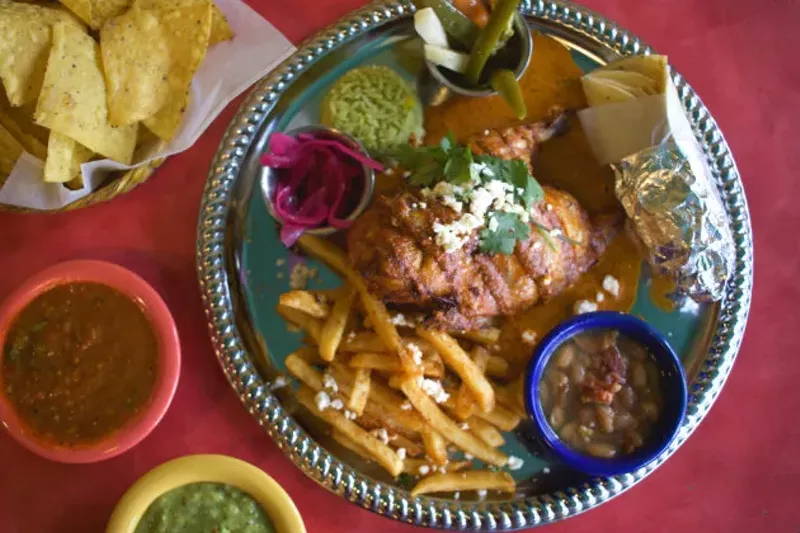 CHERYL BAEHR
A half-chicken, cooked sous vide and finished in the fryer, will be one of Alta Calle's specialties.
As for Veronica Morales, she opened the original Las Palmas on Woodson Road in 1997, then grew the brand to include several locations. Over the years, she sold all of the restaurants with the exception of the Maplewood one, but she is ready to branch out again with a new concept.
As Suarez explains, the timing was right for his mother because she will not be alone in the endeavor. Dulce had recently moved back to St. Louis from Atlanta, making the sisters' longtime dream of opening a restaurant together a reality.
Suarez and Carrasco have been leading the development of Alta Calle's menu, which they describe as hitting a sweet spot between high-end small plates concepts and the massive Tex-Mex platters often associated with Mexican cuisine in the Midwest. The pair are experimenting with dishes like street tacos made with shrimp or carnitas, as well as a half chicken that is cooked sous vide with chocolate and spices, then finished in the deep-fryer and served over fries — a common chicken presentation in Mexico. Suarez is even developing a "Mexican Ice Cream Sundae," a sweet chicharron pastry shell filled with homemade ice cream.
As Suarez explains, the name Alta Calle means "high street" and is a play on both the elevated street food concept and his hometown in Mexico, where all of the streets in the hilly village are up high. And he's not just paying homage to his native country with the food and name. Suarez is building the tables himself, making them with traditional Mexican table cloths and old family photographs.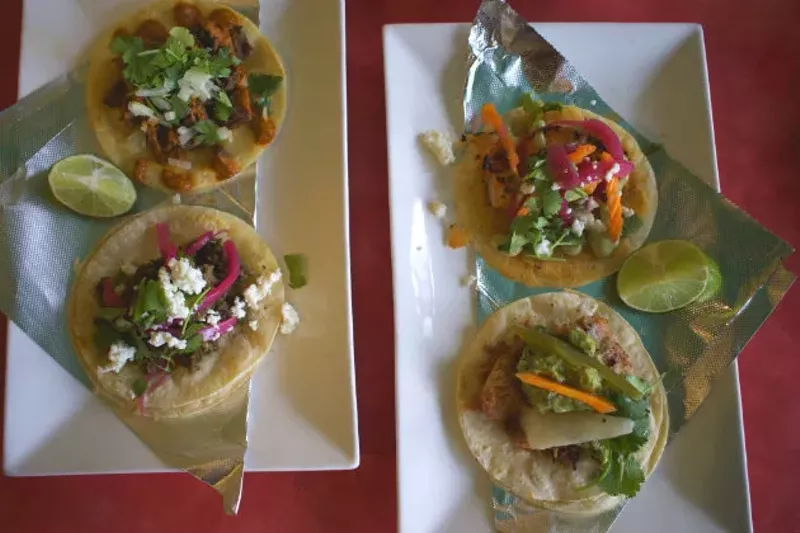 CHERYL BAEHR
Alta Calle will offer street tacos with carne aside, chorizo, shrimp and carnitas.
"We want this to be very family-oriented," he says.
Suarez and Carrasco both point to the end of May as a projected opening date, though they admit it will take a lot of work to get there. Once open, they plan to focus on the downstairs restaurant before doing anything with the upstairs space. Eventually, though, they plan to open it up to special events and parties.
In the mean time, they are hard at work in Las Palmas' kitchen, eager to get into their new space but content to develop recipes wherever they can.
We are always hungry for tips and feedback. Email the author at cheryl.baehr@riverfronttimes.com.