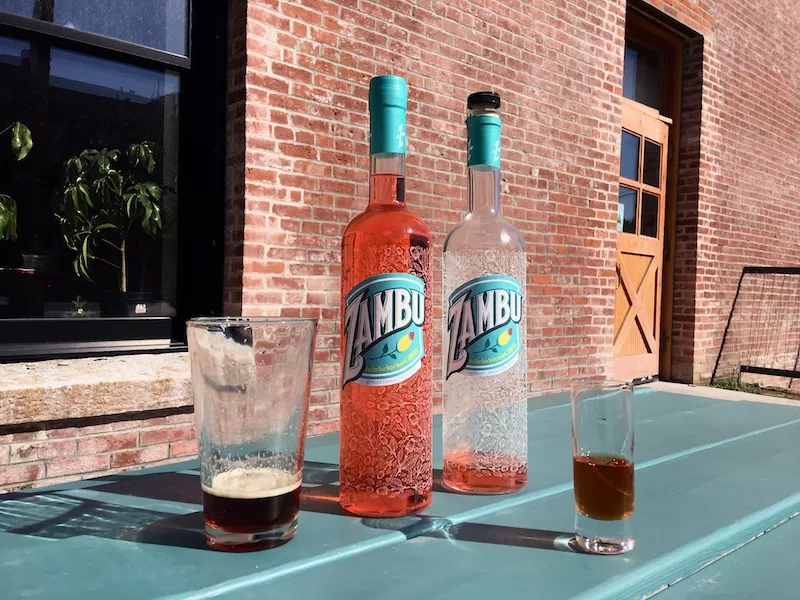 THOMAS CRONE
Zambu is now available at Earthbound Beer, among other spots in the St. Louis area.
There are drinkers who walk into a bar with their minds made up, their orders mentally placed and their palettes set in stone. And then there are those open to new flavors and brands, or suggestions from the staff. That distilleries and breweries regularly flood the world with products suggests that enough members of the "new experiences crew" exist to give products like Zambu a fighter's chance.
First produced in 2017, Zambu is only distributed in Missouri — for now. Though currently distilled in Louisville, this vodka-based shooter was born in the mind of St. Louisan Jared McClain after a chance encounter with a flower he calls "the Brazilian buzz button." (Pause here for laughter.) In Zambu, the plant gives vodka a sizzling effect, with shots hanging out on your tongue for a few minutes after ingestion; the after-burn is a strange, but not unwelcome, visitor. The initial flavor, which the brain detects as a blend of a berries/citrus fruits, is pleasant enough, but it's the obvious kick that influences the twin Zambu taglines of "taste the tingle" and "feel the buzz."
Zambu's website gives the product's origin story a bit of a heaven-sent spin: "In 2012, Jared was on the road 48 weeks out of the year traveling as a marketer and public speaker. One fateful evening, he found himself at a sushi restaurant in Colorado. Little did he know, this wasn't your ordinary sushi joint. This place happened to carry a flower, indigenous to Brazil, that has an insanely unique property to it. When consumed, the lips, tongue, and mouth are flooded with a tingling sensation that is impossible to forget. Jared asked the waitress to bring him a flower from the back so he could see what the hype was about."
McClain, the story continues, was told to give the flower a slight bite. Instead, he "chomped down on the whole thing in one big bite."
From there things got really good, the website explains: "The next three to four minutes were wild, as the active ingredients in the flower were released and ran across his tongue like a thousand packs of pop rocks. The experience would be seared into his brain for the rest of time." And, yes, it would inspire Zambu, "the tingle vodka made with a flower from the Amazon."
Initially, McClain's creation was offered in an oblong bottle, with an '80s-style logo stickered onto the front. Recently, that delightfully weirdo packaging was redesigned to more of an industry standard design, with a tactile-printed label and, even more importantly, a new recipe. (Allow us a moment to pour one out for the gone-but-not-forgotten old bottle.) For a few weeks, the product was off-market; once back, the updated version arrived in the new skin at 60 proof instead of 70, with a 30 percent ABV. Today's Zambu is a touch milder than yesterday's, with that buzz button bite dialed back, but not enough to not lose the point of its appeal.
While Zambu offers bars a menu card of suggested cocktails, the product is typically ordered as a shot, whether served chilled or at room temp. Distributed locally by Major Brands, a bottle costs your local about $17, so shots should run a customer roughly $4, though prices vary. It's currently offered at a range of places, including Pagan Wine Bar, Lumiere Place, 1860's Saloon, the Fortune Teller Bar, the Heavy Anchor and Earthbound Brewery.
McClain dreams of a national brand, with notions of opening a St. Louis production facility if/when things ramp up to that level. It's not impossible to imagine this, as Zambu has a youthful appeal. If it's able to elbow into college markets like Champaign, Carbondale or Lawrence, you could easily imagine the brand developing a quick-rise Midwestern following — and from there, the sky is the limit. There's also talk of developing other flavor profiles with lemon and lime variants in stages of development, another path to growth.
Part of the fun of Zambu is that it will split your party's responses into yes/no camps. Those who gravitate towards the fruity yet punchy sizzle will find it a whimsical alternative to night-ending shots of biting whiskey or harsh root liqueurs. Those who don't enjoy it, well, it sucks to be on the wrong side of history.
In addition to being a frequent contributor to the Riverfront Times, Thomas Crone is the liquor/beer buyer at the Tick Tock Tavern in south St. Louis. And yes, the Tick Tock's part of "Zambu Nation."