RJ HARTBECK
A verjus-braised onion: an example of what Ben Grupe hopes to serve at Tempus.
Former Elaia chef Ben Grupe may have made a name for himself in the world of fine dining and the international culinary competition circuit, but for his debut restaurant,
Tempus
(4370 Manchester Road)
, he wants to make one thing abundantly clear: This is not your average fine dining restaurant.
"I want to remove the pretension of fine dining," Grupe emphasized at yesterday's unveiling of his much-anticipated concept. "We're going to be very identifiable and approachable, somewhere people can come to several times a month and not an ABC — anniversaries, birthdays and celebrations — restaurant."
Tempus will be the debut restaurant for Grupe, an industry veteran whose career spans such notable properties as West Virginia's venerable Greenbrier Hotel & Resort, the Racquet Club Ladue and most recently Elaia, for which he was named a semifinalist for Best Chef: Midwest by the James Beard Foundation in 2018.
Grupe left Elaia last fall to
launch a dinner series, Work in Progress
, with the goal of facilitating a conversation with St. Louis diners about what most interested them. Tempus is in part a result of that conversation. However, as Grupe explains, his inspiration for the restaurant goes back much further than the dinner series.
"It's a distillation of my career," Grupe explains. "It's about the competitions, my time at Greenbrier, but it's also about food without labels. I don't want this to be seen as fine dining or Italian or anything like that. We are notching our own brand."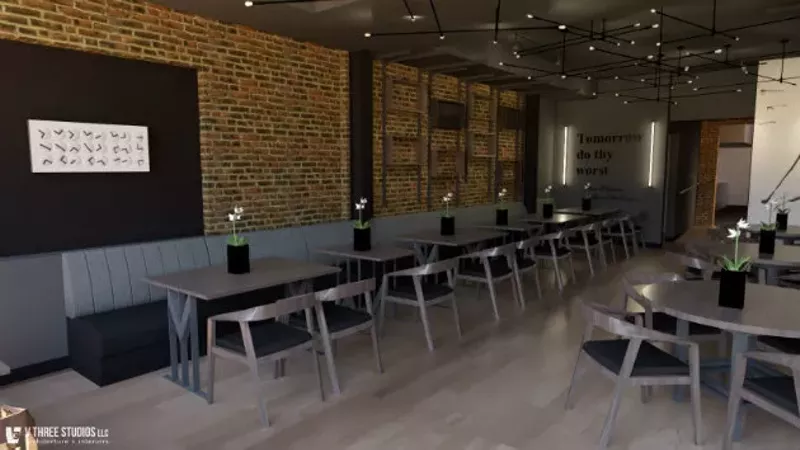 COURTESY OF V THREE STUDIOS
A rendering of the dining room at Tempus.
Grupe describes that brand as fine dining without pretension, offering a "come-as-you-are, laid back vibe that's fun and energetic." It's a determined step away from the elaborate tasting menus he's prepared and the even more elaborate culinary competition showpieces — some of which, he admits, could be unrecognizable and esoteric.
But even as he's getting away from that style, Grupe emphasizes that he will not be getting away from substance. His emphasis on technique and quality ingredients will be front and center at Tempus, only in a more approachable way.
"We will take familiar flavors, but they will be both sophisticated and simplistic," Grupe explains. "For example, something like chicken and dumplings — they've familiar and approachable, but we'll still be doing them with drive and technique so that they are the best chicken and dumplings you've ever had."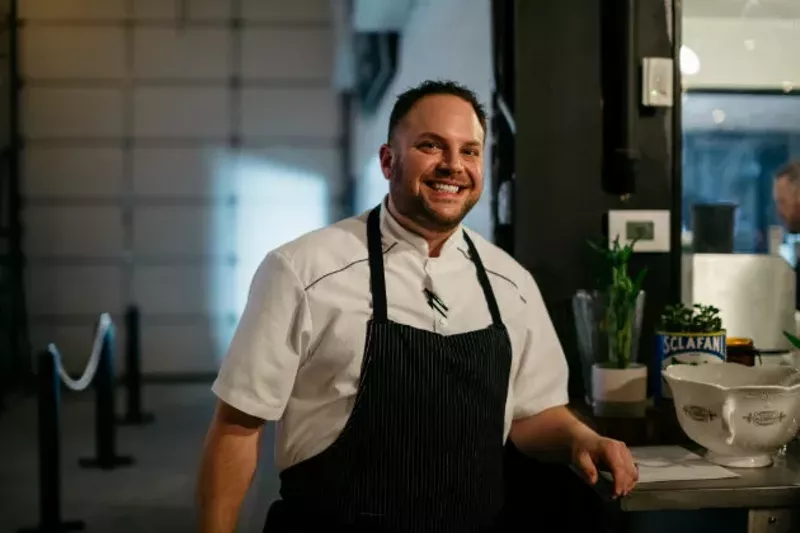 RJ HARTBECK
After several years in the industry, Ben Grupe is ready to launch his debut restaurant, Tempus.
Though there will be prix fixe options available, the bulk of Tempus' menu will be comprised of a la carte dishes. Grupe also plans to eventually offer late-night options geared toward restaurant workers, or those simply looking for something outside of diner food later in the evening.
Drew Lucido
, who has worked at Olio, Juniper and Taste, will run the bar program at Tempus. He describes the drink menu as one that will "push the boundaries of what people expect of cocktails in St. Louis." He also plans to feature wines from lesser-known varietals, as well as large-format beers that can be paired with meals like wine.
Grupe plans to open Tempus by late summer on the southeast corner of Manchester and Newstead.
COURTESY OF V THREE STUDIOS
A rendering of Tempus' bar.
We are always hungry for tips and feedback. Email the author at [email protected]