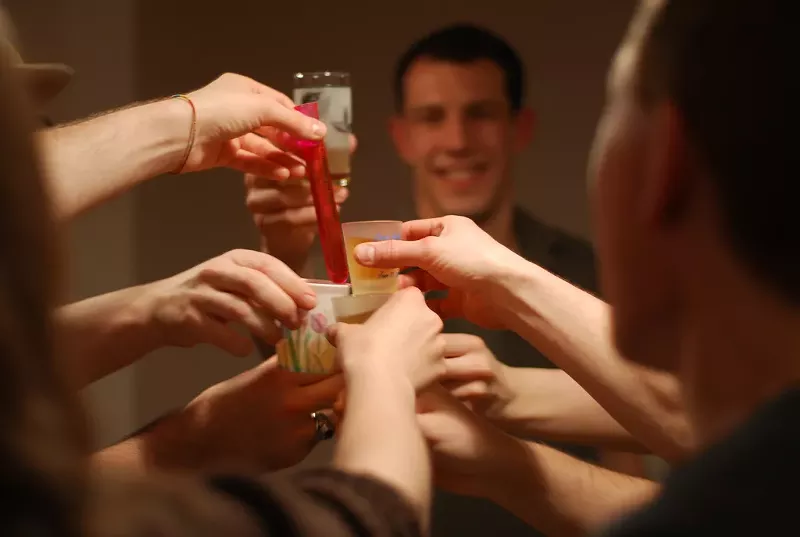 FLICKR/RYAN
Malört has achieved cult status in Chicago.
For years, St. Louisans who wanted to enjoy a shot of Malört had to know which bars stocked the product, even if those bars weren't doing so legally. A small, loose confederation of taverns kept a bottle in their understock, probably procured at a southern Illinois liquor store, as the brand wasn't technically available for purchase in Missouri.
That changed a few weeks ago. Major Brands has begun carrying Malört, and that means St. Louis-area bars serviced by the distributor have begun to purchase it — including the Crow's Nest, Tamm Avenue Grill, CBGB's, Taste Bar, Lucas Avenue Grill, Flamingo Bowl, Pin-Up Bowl and the Waiting Room. The Heavy Anchor will be getting it this week. And for those who like to drink at home, Randall's has it. People familiar with the spirit have been busily spreading the word that the, umm, let's call it "unique" taste of Malört has arrived in bars throughout the city and county.
In Chicago, where it's distilled, Malört has achieved cult status among the town's drinking class. It's a very particular drink and folks are either having one because they legit love it (some people) or are drinking it on a dare or prank, or through pure curiosity (many, many more people). How extreme could it possibly be? Well, the first sip is such a gamechanger that reaction photos and videos are easily found through the hashtag #malortface.
On the Malört website, the product is described like so: "Jeppson's Malört is Chicago's local beskbrännvin — a style of bitter, wormwood-based, Swedish schnapps. First developed during medieval times for its supposed medicinal benefits, it's traditionally associated with the farms of Skåne, in Sweden, where wormwood grows wild. In the early 1900s, it was the most ubiquitous drink in Sweden and accompanied the nearly 1 million Swedes who immigrated to the U.S. during that period. One of those immigrants was a man from Ystad, Skåne named Carl Jeppson."
Mr. Jeppson created something that's describable, sure; see the words above. And yet to fully, accurately give a sense of Malört's taste profile is a trick indeed. The shot is often given descriptions like "rootsy" or "earthy" and other, naturalistic terms. As an avid gardener, I'd go ahead and offer this scenario: If you were able to stick a straw into the distilled, liquified center of a backyard compost pit, the microbial delights that you'd find in your first sip would be akin to Malört. If you've had shots of Jaegermeister or Fernet Branca and your head tilted sideways, imagine that reaction amplified, multi-fold.
For local establishments, a bottle of Malört runs just shy of $17, roughly equating to a $4 shot. It's a relative bargain since those new to Malört will also have an evening of entertainment, describing what was just tasted.
To have a round, of course, is up to the individual; to have a round and not discuss it ad nauseum is well-nigh impossible. Choose wisely. Or be bold. Do what you gotta do, 'cause Malört's in town, legal and ready to party.
In addition to being a frequent contributor to the Riverfront Times, Thomas Crone is the liquor/beer buyer at the Tick Tock Tavern in south St. Louis. And yes, the Tick Tock is now serving Malört.