The sister restaurant of the Central West End's popular El Burro Loco plans to open its doors in April, and yesterday,
La Bamba
(1101 Lucas Avenue)
gave us a sneak peek of its colorful new home.
The restaurant, led by the general manager of El Burro Loco, Fernando Mendieta, is located right behind Flamingo Bowl. La Bamba is more laidback than her older sister — but fear not, she's down to party. Since the place is only steps away from Washington Avenue, it will focus on the bar scene.
Happy hour is all day, every day with daily drink specials. Late-night specials, such as $2 shots and tacos, are in the works. And on weekends, you'll be able to catch the restaurant's mariachi band.
About forty basic margaritas are offered to make hundreds of mixed flavors. There will also be twenty flavors of frozen drinks.
Even if the vibe is similar to its fun-loving sister restaurant, though, La Bamba has a different menu, its owners say.
"The food won't be all the same. We are wanting to focus more on authentic Mexican food instead of Tex-Mex. But the popular items will stay more consistent," says spokesman James Walker.
The menu is huge, with page after page of quesadillas, enchiladas and chimichangas. It features nearly every type of taco, burrito, and fajita under the sun.
Chelsea Neuling
Fajita La Bamba- steak, grilled chicken, shrimp and pastor.
Nothing is priced over $16.95. That's the price of the "Fajitas La Bamba," which features steak, grilled chicken, shrimp and pastor served with rice, beans, guacamole, and pico de gallo all served on a hot skillet with onions and bell pepper.
Vegetarian options are available, such as the "Enchiladas de Vegetales," which include two enchiladas with mixed veggies, topped with green salsa and cheese served with rice and beans, lettuce, pico de gallo and guacamole on the side.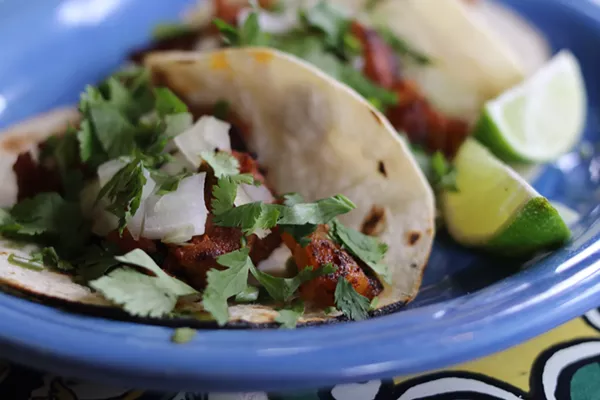 Chelsea Neuling
Pastor Tacos.
At lunch, all entrees are under $9.95. The Milanesa is served with your choice of breaded chicken or steak, as well as rice, beans, lettuce, pico de gallo and sour cream.
The pollo con chorizo, meanwhile, is a chicken breast topped with chorizo and queso dip, served with rice, beans, lettuce
and
sour cream.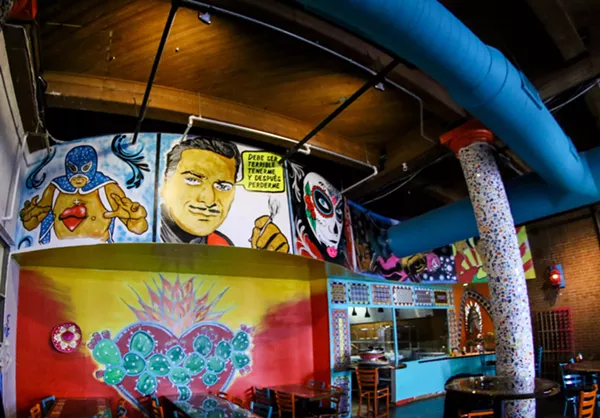 The place is filled with vibrant colors, just like El Burro Loco is known for. Mexican art covers the wall, the bar is made of mosaic tiles. Even the pipes and vents are painted in neon colors. The place has a young and fun aesthetic. It seats about 160 inside and 80 in the outside patio.
La Bamba is partnering with several delivery companies such as Food Pedaler. The owners plan to stay open until 1 a.m and are hoping to start 3 a.m sales in about six months.
Scroll down for more photos.