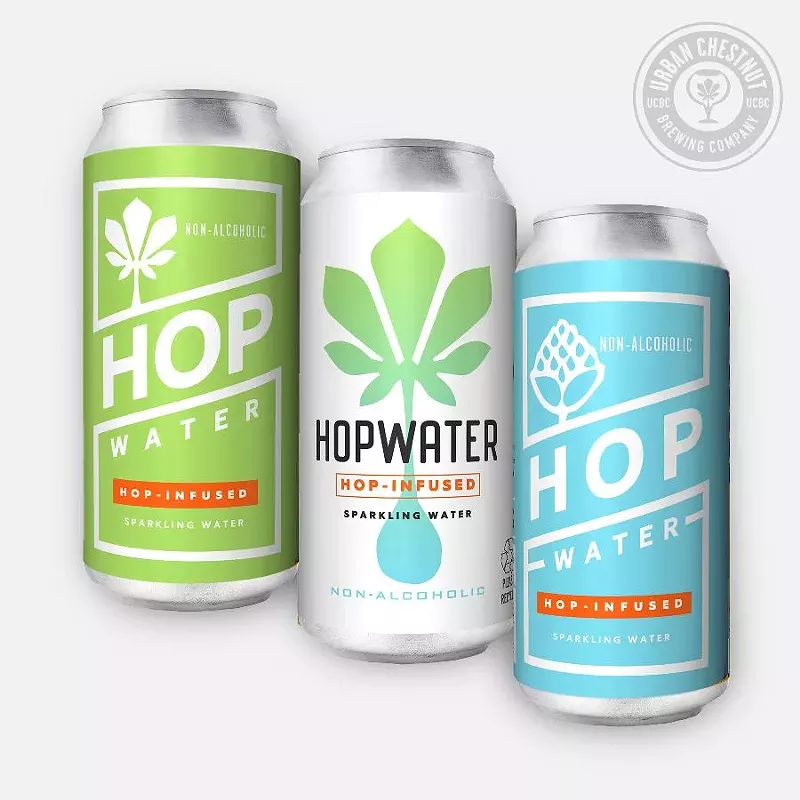 COURTESY OF URBAN CHESTNUT BREWERY
Hops aren't just for brewing beer. The delicate, pale-green flowers that help give beer its tantalizing bitterness and distinctive aroma have long been associated with wellness — credited as a possible treatment for everything
from insomnia to hot flashes
. Someday, herbalists claim, they may even assist with a cure for cancer.
Urban Chestnut Brewing Company wants to make sure beer drinkers don't hog all the benefits. The St. Louis-based brewer announced this morning that it plans to roll out a line of non-alcoholic "hop water" beginning this summer.
Unsweetened, naturally free of both calories and alcohol, but still tasty, the sparkling beverage could be an intriguing alternative to Perrier.
"It's been a fun challenge for us to create a refreshing beverage without using grain, sugar, or yeast. The result is a sparkling, all-occasion beverage full of floral and piney hop flavor," the company said in a press release.
So how did this new product line come about? It's just one of the many surprising things that resulted from LouFest's last-minute cancellation last summer.
As Urban Chestnut explains, it had planned to have a tent at the music festival, and decided to offer kegs of the hop water as a non-alcoholic alternative. When LouFest was cancelled, the company ended up putting the kegs in its Grove neighborhood brewery and bierhall — and was stunned by the customer response.
"We were blown away by how well it was received and has been selling, so we've continued to produce it and keep it on tap ever since," says Jon Shine, UCBC's vice president of sales. "Expanding availability by way of cans is a very natural way for us to dip our toes into an adjacent craft beverage market, where we'll also explore infusing different variants of UCBC Hop Water with other natural ingredients like Ginseng, CBD, etc."
The hop water will be available in four-pack sixteen-ounce cans where water and soda are sold, the brewery said.
We welcome tips and feedback. Email the author at sarah.fenske@riverfronttimes.com