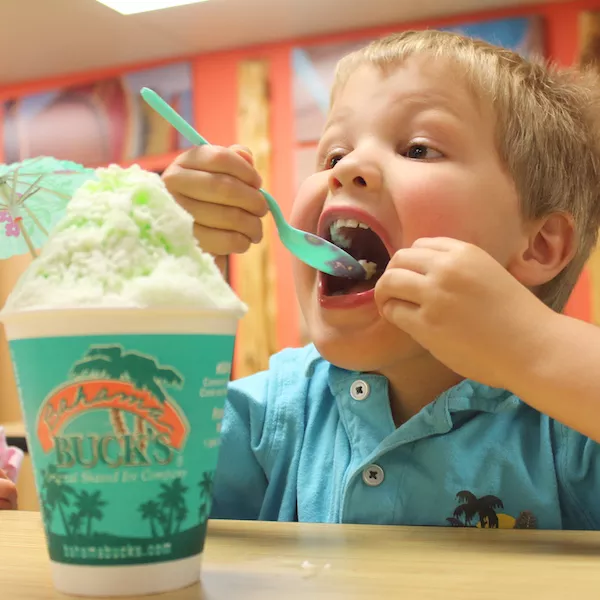 COURTESY OF BAHAMA BUCK'S
This could be you.
Bahama Buck's, the Texas-based chain promising "the greatest Sno on earth," has opened a brand-new outlet at the St. Louis Galleria. Perhaps a way to fake a tropical vacation this February without actually taking one?
For the uninitiated, Bahama Buck's serves shaved ice — or, sorry, Sno — as well as smoothies, "Bahama sodas" and even an acai bowl. Flavors are as simple as cherry or as crazy as birthday cake. You can also order "Thin Ice Sno," with zero sugar, zero carbs and zero calories .... which sounds a lot like water, except in this case it's frozen, and flavorful.
The shop is only a 312-square-foot kiosk, but the company swears it's its "most advanced" yet, with LED lighting and machines that are 30 percent quieter than usual so as not to interrupt mall guests. There's also a visual element: "We encourage guests to take photos with the multiple full-size surfboards attached to the front or side of the kiosk while they wait for their shaved ice or smoothie," a spokesman suggests.
The new shop is located by the fountain between Pandora and Michael Kors.
We welcome tips and feedback. Email the author at sarah.fenske@riverfronttimes.com