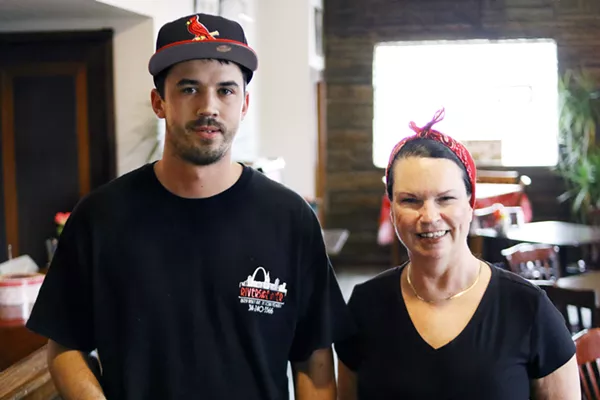 Chelsea Neuling
Riverside Diner owners Stephen Sprinkle and Christine Fried.
It took seven years, but
Riverside Diner
(8129 Reilly Avenue, 314-240-5566)
is back in business.
Originally owned by Christine Fried and her husband Scott, the Riverside Diner first opened in Carondelet in 1999, a tiny space with only 20 seats. They eventually moved to a much bigger location, at 7701 Ivory, increasing the number of seats tenfold.
The second location had been open for four years when tragedy struck: Fried's husband suffered a brain aneurysm. "Scott was the family and diner's thriving force," says Fried. "Everyone loved him. He was like a big teddy bear. People knew him everywhere we went. We once stopped for gas eight hours away and someone recognized him from the diner. We couldn't believe it."
With Scott Fried in a nursing home, his wife ended up closing the diner. But while the family continued to work in the food industry, they couldn't find the same happiness they'd felt running the diner. Missing it terribly, Fried began scouting locations and eventually enlisted her daughter's fiance, Stephen Sprinkle, to help.
In August, the two purchased the building in the Patch neighborhood that previously held the
Carondelet Diner
. They opened in November.
Chelsea Neuling
Everyone is like family at the Riverside Diner.
Serving breakfast and lunch, the diner sells a variety of home-cooked meals with fresh and local ingredients. Everything on the menu is under $10.
The three most popular breakfast dishes are the slinger, the Big Biscuit Breakfast (better known as the BBB), and the 2x2x2x2, which consists of two sausage patties, two slices of thick-cut bacon, two hotcakes, and two eggs. For lunch, the most popular dishes are the roast beef sandwich and the turkey club. Fried roasts and carves a turkey by hand every day. "None of that deli stuff," Fried jokes.
On weekends, you can order special items such as vegetarian quiche, hash-brown casserole or specialty pancakes. Previous weekends featured pancake flavors such as carrot cake and red velvet. (We know, right??)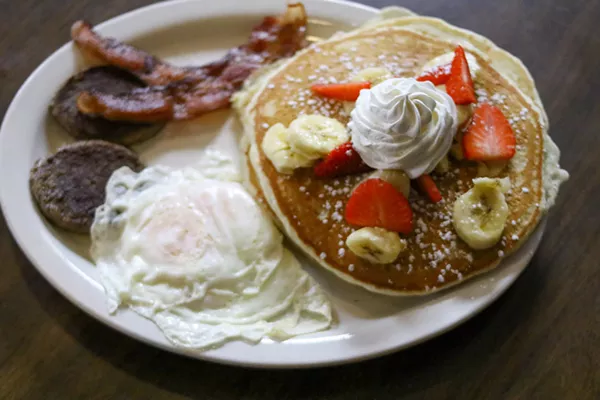 Chelsea Neuling
The 2x2x2x2: two sausage patties, two strips of bacon, two eggs and two hotcakes.
For Fried, having the diner open after so many years feels like a dream come true.
"It's all about the people, the cooking and keeping my family close," she says. "It feels so good to be back."
On a busy day, Fried says, thirteen of the fifteen tables will be occupied by their regular customers, the same regulars that were coming to the restaurant all those years ago. Everyone is on a first-name basis.
The Riverside Diner is open Monday through Friday from 7 a.m. to 3 p.m. and Saturday and Sunday from 7 a.m. to 2 p.m.
Scroll down for more photos.
Chelsea Neuling
The Big Biscuit Breakfast features homemade buttermilk biscuits topped with sausage patties, two eggs. cheese and sausage gravy. It's served with potatoes.
Chelsea Neuling
The Slinger- beef patty, hashbrowns, eggs, cheese, onions, jalapenos, and smothered in chili
Chelsea Neuling
A chalkboard shows off the specials for February 7.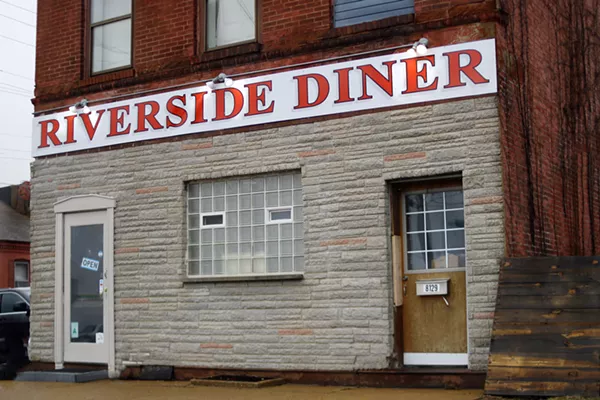 Chelsea Neuling
New location- 8129 Reilly Ave, St. Louis, Missouri